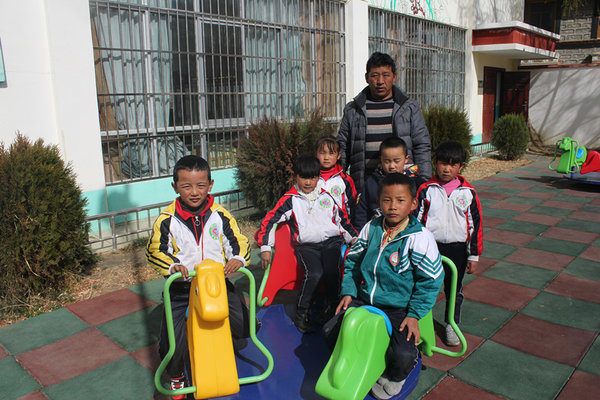 Batro and several of his students at their kindergarten in Qonggyai county, Tibet autonomous region. [China Daily]
Batro, a 43-year-old kindergarten teacher in the Tibet autonomous region, recently boarded an airplane for the first time and flew to Shanghai.
The trip was possible because he was no longer the kindergarten's only employee. Each preschool in rural Tibet now has two teachers and an intern.
Until last year, Batro worked alone, assuming the duties of principal, teacher, chef and cleaner. "I had a fairly tight schedule in those days," he said. "It was like I taught the class of 5-year-olds for 10 minutes and switched to the next-door class of 6-year-olds for another 10 minutes. I asked a smart girl to look after the class that I was not with."
For his 24 years of perseverance and dedication to the children, Batro was among 50 teachers from across China who received this year's Soong Ching-ling Preschool Education Award on May 19. He flew to Shanghai to receive the award.
"I was very excited about the trip to Shanghai, where I heard about various teaching experiences from outstanding teachers from all over the country and visited kindergartens representative of a dynamic city," said Batro, now head of a kindergarten of 30 children in rural Qonggyai county, in the city of Lhokha, about 180 kilometers from Lhasa.
"I'll certainly share my Shanghai experience with the kids in my kindergarten. The experience will be an inspiration to both me and my pupils."
After graduating from Lhasa Teachers College, a junior college at the time, in 1994, Batro began working as a primary school teacher in a pastoral county in Chamdo. There were no cars and people rode horses and yaks to get around, but Batro had never ridden a horse before. "The locals gave me a horse; the least playful one they said. But no matter how I kept spurring it, it did not run," he said. "So I finally walked to the school, pulling the horse along."
Transport difficulties prevented many children living in the mountains from attending school, he said, because there were no roads they could travel along.
That has changed over the years, and especially in the past decade. "Now most children are sent to school and picked up by parents riding motorcycles or tricycles," Batro said. "It takes most of them around 10 minutes on the road."
There have been other improvements too, with wooden school buildings upgraded to concrete ones since 2012.
"In the past, the children had to tolerate old desks that were often covered with mud falling from the ceilings, and the roofs leaked when it rained," he said.
The variety of objects from everyday life used in teaching and the method of instruction have also improved. He said the children could previously only play with stones and tree branches picked up from their surroundings, but they now have blocks and jigsaw puzzles.
Children can also explore a bigger world because the school has more teachers.
"In the past, if the theme of the education was spring plowing, I could only describe to the kids what it was," Batro said. "But now, since we have more teachers to look after children's safety, they can be taken to the farmland to see what tools the farmers are using and have a clearer idea of what each tool is used for."
Batro said another significant change he had noticed was that parents were placing greater importance on their children's education.
"They are aware that a good education is a path for the children to see a bigger world in the future," he said.
Young children's increasing fluency in Mandarin was one example of the way things were changing.
"Most children now grow up speaking both Mandarin and the Tibetan language, and many of my school kids speak better Mandarin than I do," he said. "I believe the young generation will have far more opportunities to see a wider world than me.
"I'm preparing them for their bright future."
(Source: China Daily)