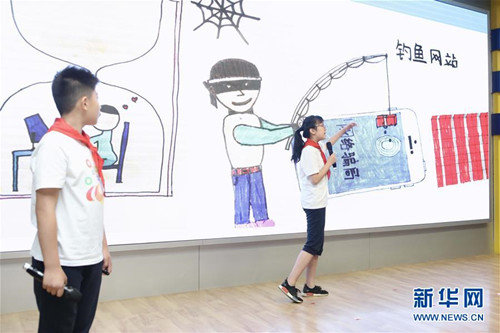 A girl presents her report on the dangers faced by children during their online activities. [Xinhua]
Child representatives made an appeal to their nationwide peers to better protect themselves from various online dangers at a forum held in Beijing on June 1.
Co-hosted by the Department of Family and Children's Affairs of the All-China Women's Federation (ACWF), the China National Children's Center (CNCC), and the United Nations Children's Fund (UNICEF), the gathering aimed to bring more public attention to online risks for children and address the potential isolation that can occur when children inhabit a cyber world that parents and caregivers do not fully understand.
As outlined in the report, Children in a Digital World — The State of the World's Children 2017, teenagers account for roughly one third of worldwide internet users, but not enough is done to protect them from the perils of the digital world.
Students from a Beijing-based elementary school found in their survey that over 80 percent of respondents surf the Internet at least three times per week and one third of them are habitually viewing online content every day.
According to the study, nearly half of all those polled have played online games and one tenth of them are victims of online cheating.
Meanwhile, students from Guangzhou said in a report that live streaming platforms have enjoyed great popularity amongst children, adding that there are too many negative videos accessible to them on the Internet.
Two students from Beijing thus called on their peers to use the Internet properly and stay away from negative or dangerous online content. In addition, they are warned against leaking personal details or family addresses to strangers, meeting with online friends alone, and addiction to online games.
On the same day, the UNICEF branch in China kicked off its "Cyber Cocoon Kids" art installation at the CNCC headquarters to illustrate four key online risks for children, namely, cyberbullying, excessive internet use, online child sexual abuse and oversharing of personal information.
Rana Flowers, the UNICEF Representative in China, explained that many teenage internet addicts are liable to be left high and dry while their parents and policy-makers have little knowledge about their online activities.
She noted that our digital policies, practices and products should better meet the demands of children and be aimed at eliminating dangers posed to them from online activities.
The "Cyber Cocoon Kids" art installation [Xinhua]
(Source: China Women's News/Translated and edited by Women of China)