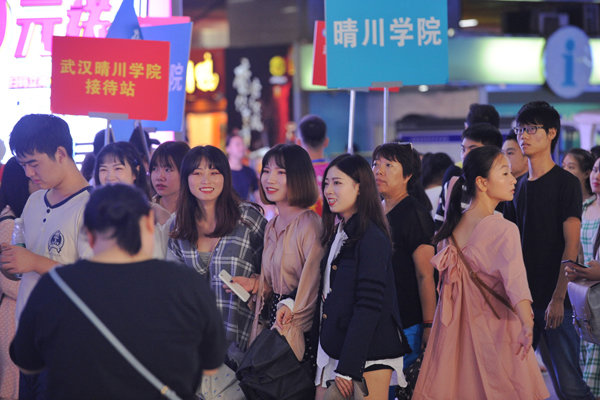 Universities and colleges in Wuhan, capital of Central China's Hubei province, pick up freshman at the Wuchang Railway Station as the new semester starts.[China Daily]
Babies born in the Year of the Dragon are now freshmen at universities and colleges.
Stuffed toys, guitars, zithers, swimming goggles, hometown delicacies and books-with these items packed in their luggage, China's "millennial babies" yearn for a colorful college life.
The number of "millennial babies" born in 2000 was 17.71 million, the highest annual birth rate from 2000 to 2015, before China began to allow couples to have two children in 2016.
The year 2000 was not only the turn of the millennium but also the Year of the Dragon for Chinese people. It is believed that babies born in that year have good fortune.
Eighteen years later, "millennial babies" have become freshmen at universities and colleges.
At the Ocean University of China, in East China's Shandong province, about 72 percent of the freshmen were born after 2000.
Zhang Yueru, one of the "millennial babies" from northwest China's Qinghai province, traveled about 2,500 kilometers to attend university.
"It is my first time being so far from home, and there are a few things that make me uncomfortable.
"The library is so big," she says.
"It is easy to get lost as there are so many roads on the campus."
She will major in photoelectric information science and engineering, and also plans to join clubs on Chinese traditional culture.
"I like ancient poetry, especially song lyrics," she says.
"Many post-00s like traditional Chinese culture, such as wearing traditional clothes, reciting ancient poems, singing traditional tunes and taking photos dressed in an ancient Chinese style.
"I am sure that I can find quite a few friends who share my interests."
Liang Yixin, who plans to pursue a biotechnology major at Qingdao Agricultural University, is looking for a dancing club.
"I had to give up dancing in high school as the burden of studying was quite heavy. Now I want to pick up dancing again," she says.
As living conditions improved over the years, many post-00s' parents, a lot of whom were born in the 1970s and received a good education, sent their children to classes relating to the arts from early childhood.
And Zhao Fengjiao, a teacher at Ocean University of China, says: "Whether it's piano, dancing, violin, chess, electronic sports or ancient culture, the post-00s really know much more than us, post-80s."
But compared to the time spent on their hobbies and interests, "millennial babies" still pay more attention to their studies.
Sun Beibei, a counselor at Qingdao Agricultural University, receives many calls from freshmen who want to know what they need to prepare for before the semester begins.
"Whether they need to take painting classes or buy painting material are the most commonly asked questions if their major requires painting skills. They really care about their studies," says Sun.
Also, most of the post-00s interviewees say they will work toward a postgraduate degree.
Wang Leshan, a freshman at Ocean University of China, who is interested in science and technology, wants to major in photoelectric information science and engineering.
"After smartphones, what will be the next big thing? I think it will be VR (virtual reality) and AR (augmented reality)," says Wang.
"Undergraduate courses are not enough for me to develop new VR and AR equipment, so I want to work hard and pursue a postgraduate degree."
According to a survey by Chinese internet giant Tencent in May, 89.4 percent of post-00s think that success depends on hard work.
Yang Jingpei, a freshman at Qingdao Agricultural University who comes from a family of farmers, aims to help his parents through his study of agricultural mechanization and automation.
"We, the post-00s, have had access to the internet at an early age, and are full of imagination. I believe I can make farmers' jobs easier," says Yang.
Despite the view that post-00s are irresponsible and selfish as most of them are the only child, Li Haoyu, a freshman at Qingdao Agricultural University, is proving to be an exception.
Li, who is one of the 300 government-supported students majoring in agricultural sciences in Shandong province, receives free tuition, accommodation and a subsidy of 4,000 yuan ($584) per year. And after graduation, he will serve in a county or village station applying agricultural techniques for at least five years.
"I want to go back and serve my hometown. In this way, I can ease my parents' financial burden and look after my mother as she is in poor health," he says.
Wang Leshan plans to teach in poverty-stricken areas in Northwest China's Gansu province.
"It sounds cool!" says Wang.
"Our senior schoolmates have been doing this for more than 10 years, and we, post-00s, should carry this on."
(Source: China Daily)