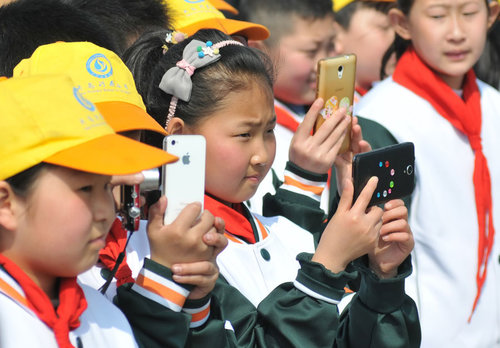 Primary school students take photos of sailboats during an outdoor course in Qingdao, east China's Shandong Province, in March. [China Daily]
The southern province of Guangdong plans to ban electronic devices in classrooms in an effort to protect the eyesight of schoolchildren.
Mobile phones and tablets, among other electronic gadgets, should not be taken to classrooms in primary and secondary schools, according to a draft document on fighting juvenile myopia issued by the provincial education authority on December 8.
Schools are encouraged to guide students to use electronic gadgets in a scientific way and homework on paper should be chosen over electronic devices in principle, said the draft document.
Other measures to prevent myopia among adolescents include participating more in outdoor activities, getting more sleep and reducing students' homework loads.
Through these measures, the province aims to reduce the juvenile myopia rate by 0.5 percent annually in the next five years.
The long-term goal is to keep the shortsightedness rate for 6-year-olds at around 3 percent by 2030, with the rate for primary school students capped below 38 percent, junior high students below 60 percent, and senior high students below 70 percent.
According to a report released by the World Health Organization last year, the myopia rate among Chinese juveniles is the highest in the world at 70 percent for high school and college students and nearly 40 percent for primary school students.
The Guangdong document echoes central authorities' efforts to safeguard the eyesight of adolescents and children.
Eight ministries and departments, including the Ministry of Education and the National Health Commission, issued in August a plan to curb the problem of myopia among schoolchildren.
According to the plan, the prevention and control of myopia will be used to evaluate local government performance.
(Source: China Daily)