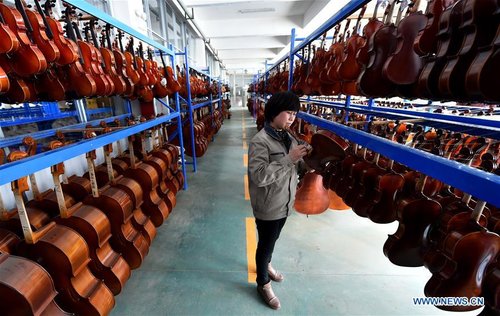 A worker paints a violin at a violin industry park in Queshan County, central China's Henan Province, Jan. 30, 2018. [Xinhua/Li Jianan]
It is rare to see farmers playing violins, but even more rare that in a small town in central China's Henan Province, farmers can earn a fortune making violins.
Queshan, a town with a population of less than 530,000, has more than 100 violin factories, and over 50,000 pianos were produced there in 2017.
Local residents started making pianos more than 30 years ago.
After China's economic reform and opening-up policies were adopted in 1978, people across the country were encouraged to start businesses.
local farmers received support from the local government, which established a violin industry park of over 40 hectares.
Farmers learned to build, polish, string, and paint voilins, becoming violin-making professionals, or some even taught themselves to play.
Currently, every one in four violins in China are produced in Queshan, with a violin industry output of about 250 million yuan.
The violins are exported to more than 10 countries and regions, and the town is the largest violin-making base in China.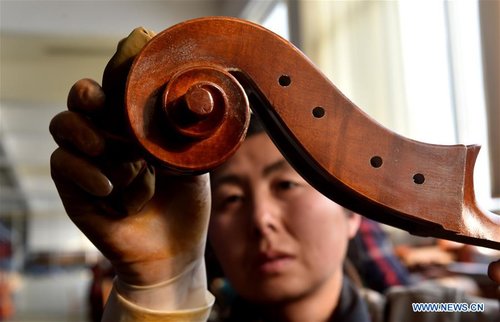 A worker paints a violin at a violin industry park in Queshan County, central China's Henan Province, Jan. 30, 2018. [Xinhua/Li Jiannan]
(Source: Xinhua/Translated and edited by Women of China)