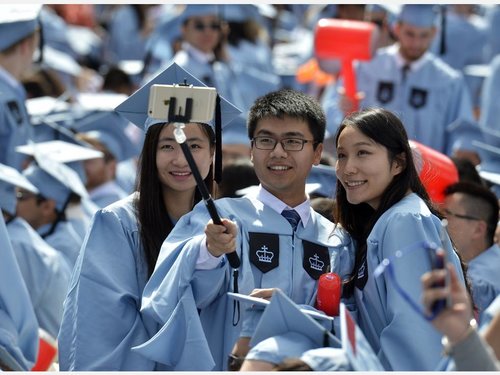 Chinese overseas students attend their graduation ceremony at a university. [Xinhua]
China has introduced several recruitment and retaining policies to encourage overseas academics and professionals to return home, especially since Premier Li Keqiang restated the importance of talent introduction at this year's 'Two Sessions' meetings.
"I've been watching and tracking the changes in China during the 'Two Sessions' meetings," says Li Tian, a graduate student at University of Connecticut in the United States.
"China is becoming a world power in various ways, and I can hardly wait to be back home and make my contributions," Li states.
The government work report delivered by Premier Li also suggests endowing advanced talents with increased rights for personnel assignment and strategy planning.
"The national guideline released at the 'Two Sessions' indicates that there are more advantageous offers for senior intellectuals," says one postgraduate from University College London who goes by the name of Phil.
Fu Xiaolan, director of the Technology and Management for Development Center at Oxford University in the UK, comments that Chinese overseas students are equipped with broader horizons and stronger self-confidence, thanks to China's rising status in international affairs.
"Moreover, for years, the Chinese government has strived to create a fair environment to cultivate talents and support their businesses, which stimulates their enthusiasm to contribute to the nation's development," Fu adds.
(Source: Ecns.cn/Translated and edited by Women of China)