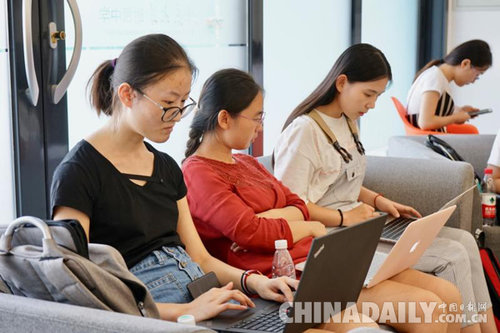 Female programmers in China [Wu Yong/China Daily]
Several female programmers in China recently shared their opinions of their profession after an article on women in the IT industry written by an associate professor at Tsinghua University gained much attention online.
The article titled For Candidates Who are Applying for Majors and Interested in Computer Science or AI was originally posted on Zhihu, a popular Quora-like online question and answer website in China.
In the article, the author, Liu Zhiyuan, from the Department of Computer Science at Tsinghua gave a strong "Yes" to the question "Are women suitable for a computer science major?"
He said that, for many reasons, there are fewer women majoring in computer science, but the computer industry is actually suitable for them.
He encouraged more women who are independent and interested in computers to make their own choices.
As early as 1843, Duchess Ada Lovelace announced the world's first algorithm, making her the world's first "programmer", according to historians.
Nearly two centuries later, however, women have become a "minority" in a field started by women.
What is depriving women of their interest and involvement in computer science? What kind of wisdom can women contribute to this field?
Recently, a group of female programmers in the industry have been invited to share their stories on these questions.
Prejudice Stands in Way
Li Xiaohan, with a high score of 703 in the college entrance exam in 2014, received offers from many key universities including Tsinghua. Due to the Associate Professor Liu Zhiyuan's advice, Li chose to study computer science and has been recommended for admission to the postgraduate study in the school for now.
"I want to work in companies like Tencent or Sina in the future because such companies have completely changed the way modern people live, and they will continue to change the world. Therefore, Liu suggested me to major in computer science, as tailored to my interests and needs, and that became my initial option," Li recalled.
However, Li suddenly changed her mind as she was close to filling in the application form.
As it happened, teachers from another university made great efforts to highlight the stressful study and heavy workload of a computer major, and suggested that women were more suited to a foreign language major.
"Finally, it took me a long time to free her from a fear of computers," Liu wrote in his article.
Luo Yuxin, 28, was not interested in computer science at the outset. In 2009, she was admitted to the National University of Singapore, majoring in transport engineering. After graduation, she also engaged in shipping-related work.
However, several years later, she felt bored with what she was doing, and became interested in programming instead.
In 2016, she began trying to study several simple HTML and CSS tutorials by herself, feeling it was "far more creative than my work."
Later, in no more than one year, Luo had transformed herself into a female programmer, working as a Data Engineer in Singapore.
She also began to wonder, why did she not think of choosing a computer major right from the start?
Summing up her experience, she said: "Firstly, the computer industry has had an extreme gender imbalance since school education when it comes to choosing subjects of interests or majors to specialized in, and this imbalance would become all the more pronounced in employment upon graduation."
"Secondly, there is a certain prejudice against people who study computing, which is viewed as a subject mostly chosen by young men with a withdrawn character or low EQ. It was these prejudices that scared many women like me off," Luo added.
The male-to-female ratio caused by prejudice is seriously imbalanced in the computer field and is widespread all over the world.
Luo noted that, "Twenty-five years ago, the proportion of women in computer science majors in north American colleges and universities was 37 percent, and now it's 18 percent. In Singapore, the gender gap in computer science is also wide."
Even in the workplace, prejudice is associated with many women.
Men make up 92.4 percent of programmers and women just 7.6 percent, according to the 2018 China Programmer Pay and Living Survey, published by a private organization.
When she first joined her company, Luo Yuxin was the only female engineer there. "Sometimes attending the company's programming self-reporting meeting, I found myself to be the only woman in the room. Some even ask me if I can understand what they are talking about, or whether I had come to the wrong room," said Luo.
Women Are Equally Good as Men in IT Industry
Stepping into the door of computer science, many women discovered that computers are not as difficult to learn as they imagined, and women are also performing well.
Yulou, who chose software engineering major of Chongqing University of Posts and Telecommunications said she did not like it at first because her college entrance exam score was not high enough to allow her to apply for her favorite architecture major.
However, after learning programming in her sophomore year, she found that: "Programming tests logical thinking and practical ability, which is what I am good at, so I really fell in love with it".
After getting started, she found that computers were not as difficult as others said.
"It may not be suitable for all women, just as not all men are suitable for this profession, but this profession should never be as devoid of women as it is now,"said Yulou.
Liu also wrote in his article, "At present, women are less likely to major in computer science for many reasons. There is a social public stereotype and stigma in the computer industry, even the computer workers like teasing themselves, and social prejudice also exists in women's employment."
"In fact, there are female students in every field of computer industry, for example, graduates of our department have been granted the Best Paper Award of the Decade by the top national academic conference SIGMOD three times in a row, and the recipients are all female students,"Liu wrote.
"Though there are few women in our department, the women and female teachers in Tsinghua have greatly contributed to the computer field in the past few decades,"Liu added.
Female Are Willing to Study Computer Sciences
"According to a 2016 report from Carnegie Mellon University (CMU), which has the largest professional scale in computer sciences enrollment across the U.S., the proportion of female undergraduates has reached 48.5 percent."
According to Liu, "CMU is committed to balancing the ratio of male to female students, and there will be many measures taken to encourage more female students to choose an IT major."
Zhang Yingyue, 28, graduated from Singapore Management University, majoring in information system management.
According to Zhang, the subject should not be seen as mere technology. "IT is a way of thinking as well as a basic skill for the future, just like everyone needs to be able to use a computer now."
Zhile, 19, is a sophomore in the computer department of China Women's College. She was interested in computer science since high school.
Now, she is interested in information security the most. "The information security problem is serious, and I would like to pursue further study in graduate school in the future."
World Needs Women, So Does Computer Industry
"Too many companies lack female talent, which is bad for technology development. Now, if a female software engineer applies for a job, she will get preferential treatment," said Liu.
After being admitted to Tsinghua, Li said that to encourage women to join the computer industry, the stereotypes must be ridded of. "Let women also have the opportunity to participate in changing the world through their own intelligence."
"Stereotypes can be changed by publicizing education, but the reality faced by women requires the support of enterprises, governments and the society as a whole," Li added.
She also hopes that domestic IT enterprises can gradually improve the current unreasonable working and living conditions for programmers.
In east China's Shandong Province, for example, officials decided to add programming to the newly published sixth-grade textbooks.
The news has heartened Zhang. "Programming education, if starts as early as in primary schools, may be more likely to eliminate gender-based distinctions and give girls more confidence in computer learning," she said.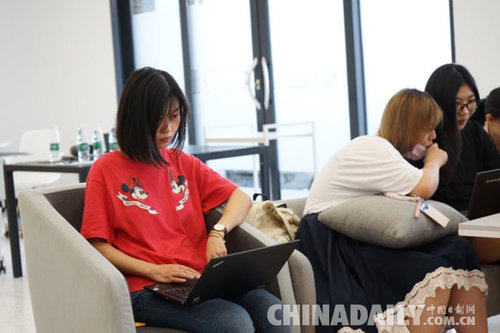 Female programmers in China [Wu Yong/China Daily]
Female programmers in China [Wu Yong/China Daily]
(Source: China Women's News/Translated and edited by Women of China)