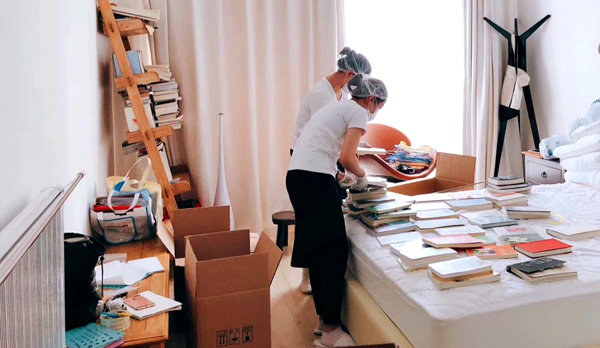 Home organizers sort out items. [For China Daily]
Five hours after stepping into the home of a 90-year-old woman in Shanghai, Lei Lei left with a cornucopia of items.
They included 86 shopping bags, stacks of expired retail coupons and tickets, eight plastic combs, two bags of plastic fans and a variety of objects that had not been used for decades.
More importantly, she also left with a great sense of satisfaction, and the client was delighted as part of the bargain.
"This process is also a wonderful experience for me," said Lei, a young mother of two who has worked as a professional home organizer for 15 months.
"Being able to transform chaos into order makes me feel great. What I think is even more important is getting to see families regain the beauty of an orderly living space."
Lei, who runs the company 37 Degrees, is just one of many people who have joined the relatively new home decluttering services sector, which has been increasingly attracting attention in recent years.
The concept of decluttering stems from the Japanese term danshari, which comprises three characters that mean "refusal", "disposal" and "separation".
In China, Han Yi'en, founder of Yien Organization, which trains home organizers, is considered a pioneer in this budding sector. Inspired by Marie Kondo, the Japanese woman who popularized decluttering globally, Han started by offering free home organization services on weekends in 2013.
A team poses for a group photo at a client's home. [For China Daily]
Convinced that this was the career she wanted, she quit her job as a legal consultant in 2015 before setting up her own home organization company in Shanghai in 2016, offering not only decluttering services but also classes to train professional organizers.
Han said that initially the concept of space organization was so new in China that even her company's registration administration department did not know how to define its business activities.
Now, Yien Organization has trained more than 300 professional home organizers who have provided over 310,000 hours of decluttering services nationwide.
"Factors such as improved living standards and the fast development of online shopping and delivery services have resulted in more and more people buying things they don't need. Without regular decluttering, their homes would soon be filled with unnecessary items," Han said.
"It doesn't help that there's a tradition in China of treasuring possessions. Most people don't have the habit of discarding useless items unless they are worn out."
According to a survey published in China Youth Daily early last year, nearly 76 percent of the 2,005 respondents polled said that they kept items they did not need. In addition, fewer than 40 percent said they regularly decluttered their homes, while 42.5 percent said they felt uncomfortable with having to discard their possessions.
As the sector in China is still new, one of the most common misunderstandings is that the services provided are the same as those for conventional house cleaning, Han said.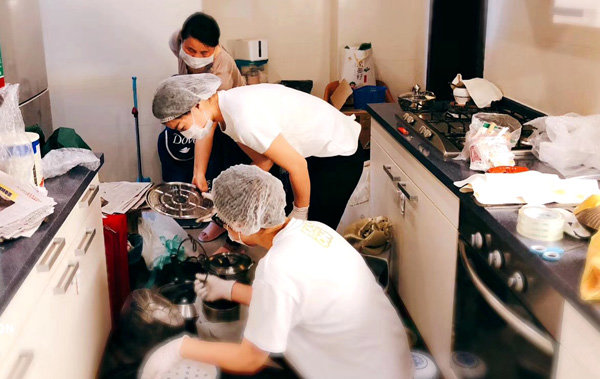 Organizers at work in a kitchen. [For China Daily]
"Home organization is not home cleaning. It's completely different. Decluttering is not merely about disposal and sorting things out — it is a way to improve the relationship between people, their belongings and their space, which can help lead to a tidy and comfortable life. It is about education and bringing beauty and harmony into our living space," she said.
Professional home organizers typically carry out interviews with clients at their homes to learn about the requirements of the job before they start work.
While some projects only require a few hours' work, others can take days, depending on the situation. Home organizers usually wear gloves and masks to protect themselves. Many of the homes they work in have never been thoroughly cleaned or decluttered for decades.
Han said one of her most challenging projects involved a 12.5-square-meter apartment in Shanghai. Despite the small size of the property, it took 21 organizers seven days to sort through all the items that had been collected by an elderly couple for 36 years. Han and her employees ended up discarding 58 bags of useless possessions, each with a volume of about 1 cubic meter.
Mu Mian, a home organizer from Xiamen, Fujian Province, said there are typically five steps involved in the process — emptying, classification, selection, positioning and storage.
"It is only after all the things have been emptied onto the floor that people realize how much they have hoarded," she said. "That really shocks them.
"Successful home organization is the result of fully understanding a family. We help them to rethink the relationship between humans and items and teach them how to keep essential things in order. We never aim to offer a temporary service," she said. "In most cases, we are happy that our clients are able to maintain their homes in an orderly state after half a year."
Treasured items found at the home of a 90-year-old woman in Shanghai. [For China Daily]
Professional home organizers also command different fees to house cleaners, and at times can cost many times more. Services are charged by the hour and the size of the area that needs to be decluttered. They usually range from 200 to 500 yuan ($29 to $72) per hour per person.
For a highly sought after organizer such as Han, rates can rise to 1,000 yuan per hour. There have even been projects that cost 50,000 yuan.
Yien Organization general manager Zhang Chao said its clients are usually well-educated, discerning women who can tell the difference between home organization and house cleaning, and are also willing to pay more.
"These clients have a greater sense of responsibility for taking care of their family and hope to offer them a better life," Zhang said.
Despite the cost, home organization services have seen strong demand, according to Han, whose business received a boost when she appeared on a China Central Television program at the start of this year.
"When I started out, my phone hardly rang during the week, but now we receive a new client every day," she said.
"The business is still in its infancy in China and hasn't borne much fruit yet. However, I'm playing the role of a seed — one day it will bud and grow into a big tree with fruit that people will need."
According to many home organizers, most people feel happier after seeing their living spaces cleaned and organized. Some even break down in tears.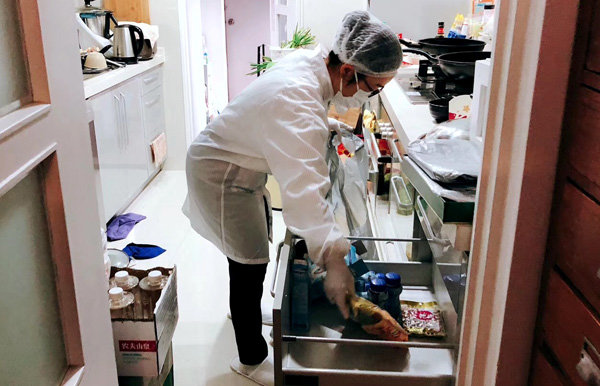 A home organizer at work. [For China Daily]
Sun Shijin, director of the Psychology Department at Fudan University in Shanghai, said that having an organized home helps with one's inner peace, and the process has even been recognized as a psychological treatment to improve people's moods.
Speaking during the Third Chinese Home Organizer Conference in Shanghai on May 19, Sun said that in psychiatric treatment, patients are often asked to arrange items on a sand table, as this can help to explain their inner thoughts.
"The home, no matter whether it is a small bedroom or a big villa, can be seen as a big sand table that is a reflection of a family's situation. Their attitude and awareness to life is also reflected," Sun said.
"Home organizers are just like psychologists. When they require you to rethink the value of your belongings and make choices to dispose of things, they are actually trying to readjust the family's attitude to life and the relationship between members."
Sun said that people hiring professional home organizers should always be on-site when the work is being done, as the employees will have questions to ask. One of those asked most frequently concerns the last time a particular item was used.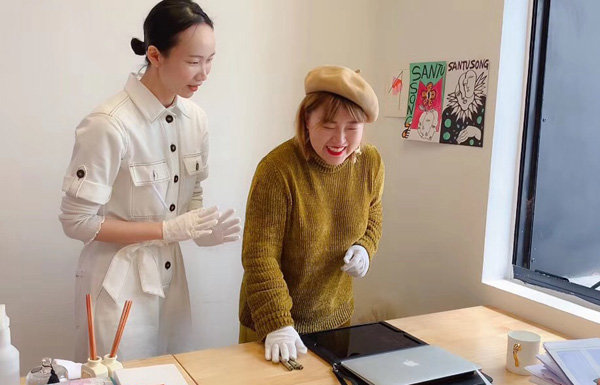 Professional organizer Han Yi'en discusses a project with a client. [For China Daily]
Sun said the purpose of asking such questions is to push clients to rethink their relationship with items. Based on the responses, items are then sorted into different bags marked "useless", "useful" and "in-between".
Sun was once a client himself. Home organizers spent three afternoons at his office, clearing up about one-third of his possessions.
"Home organization does not just teach us how to get rid of useless items — it also shows us how we can get rid of useless activities and pressure in life," he said.
According to the Chinese Association of Professional Organizations, the job also brings positive feelings to home organizers, with some 64 percent saying they feel happy and satisfied while working on a project,
Sophie Ho, from Taiwan, who became a full-time home organizer in 2016, said, "Home organization is not just a solution for living spaces, but a change to everyone's inner feelings."
(Source: chinadaily.com.cn)