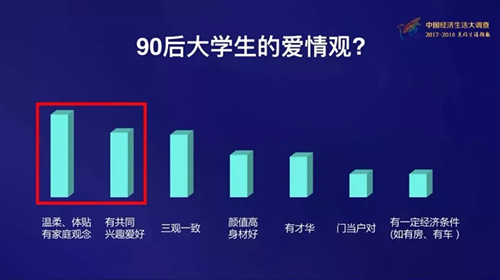 The chart shows that many unmarried young women have emphasized the possession of a fine character, strong sense of family, and common interests when they look for boyfriends and future husbands. [tv.cctv.com]
In contrast to their parents, many unmarried young Chinese women now downplay the importance of houses and vehicles when they are looking for boyfriends and future husbands, according to a latest survey.
On the contrary, the possession of a fine character, strong sense of family, and common interests have become the leading factors in making such women fall in love and get married with their ideal partner, say experts.
The findings come from China's Economic Life Survey (2017-2018), an annual study jointly conducted by the Financial Channel of CCTV (China Central Television), China Post Group, the National Bureau of Statistics, and the National School of Development at Peking University.
Many female respondents said they no longer demanded that their boyfriends or fiancé have an apartment before marriage, adding that they are willing to work together with their partners to save money and purchase their homes after the ceremony.
Song Yiyi, a young woman from the city of Dalian in northeast China's Liaoning Province, said it is difficult for her and her peers to afford their own houses or vehicles with just their personal savings nowadays.
Therefore, Song refuses to list them as "must-haves" owned by her boyfriend before tying the knot, although her grandmother has had different idea in this point.
However, she explained that her boyfriend must have a clear career plan and strategic insight about his future development.
Chen Yuan, a graduate student in Beijing, said she has bought her own house in the capital with financial assistance from her parents. She explained that she can accept her future husband to live in her current apartment as long as he is good to her and has a clear goal to constantly improve their lives.
To Chen's surprise, she has found herself in agreement with her parents in not demanding that her future husband must own his own house before getting married.
(Source: youth.cn/Translated and edited by Women of China)