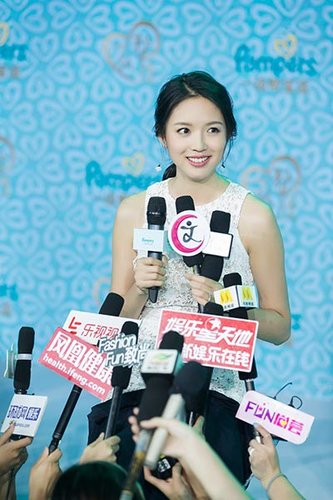 Supermodel Zhang Zilin. [Photo provided to China Daily]
The US consumer goods company Procter & Gamble recently held a ceremony in Beijing to launch Pampers Ichiban — a popular diaper product in Japan, into the Chinese market.
About two decades ago, it was not common to see disposable diapers in China because babies often wore cloth diapers.
According to P&G, Pampers Ichiban is especially designed for the tender skin of newborn babies.
At the ceremony, China Women's Development Foundation and Yuxueyuan, a popular Chinese child-rearing app, released the result of a survey about Chinese parents' skin contact with their babies.
A survey of 4,494 families with a baby less than 3 years old, showed that only 20 percent would touch or massage their babies every day, and more than 30 percent had less than one hour's skin contact with their babies.
"Newborns learn about their existence and the surrounding environment via skin contact, which is good for the growth of their brain, body and mind. So Chinese parents should focus on the sense of touch," says paediatrician Cui Yutao, co-founder of Yuxueyuan.
He says it's important to choose diapers that are permeable and soft as babies' skin, especially their buttocks, are delicate.
Chinese supermodel Zhang Zilin was also invited to share her experience of taking care of her 1-year-old daughter, and how she learned to massage her baby.
(Source: China Daily)