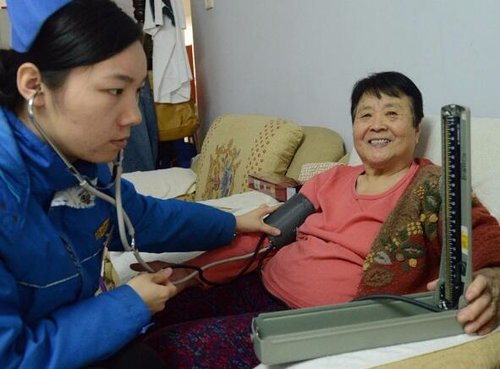 A nurse checks the blood pressure of a woman at her home in Zhengzhou, Henan province, in January. Family doctor services include such personal attention. [China Daily]
China's top health authority is standing by its statement that more than 500 million people had been assigned family doctors as of the end of November, despite a barrage of questions raised by netizens.
The National Health and Family Planning Commission said on Wednesday that the figure was based on data reported by local governments since May. It reiterated that the number of people who accessed family doctor services met the target for the year.
According to a circular from the commission in May last year, more than 30 percent of China's population was supposed to be covered by family doctors by the end of this year.
On Sunday, the commission said residents in more than 95 percent of China's cities can now access family doctors, with the total number exceeding 500 million people, more than 35 percent of the population.
However, the announcement was met with disbelief by some netizens, who said the number was too high, Science and Technology Daily reported.
While the commission said on Wednesday that the number of people covered by family doctors had met the target, it added that coverage varies by area, and quality of service in general needs improvement.
A system of family doctors has been promoted nationwide since May and is in its infancy. Many difficulties exist, including a lack of general practitioners and customized grassroots services, the commission said.
It said it will focus on improving family doctor services next year, so that residents are more satisfied with the services they receive. Measures include more intense training of healthcare workers at the grassroots.
Currently, family doctors comprise physicians mainly working at grassroots medical institutions, such as community health centers and village health facilities.
It is expected that family doctors who serve as health gatekeepers for residents will help solve health challenges such as the increasing number of patients with chronic diseases and soaring medical costs resulting from too many patients going to big hospitals while grassroots medical institutions are ignored, the commission said.
Wang Xin, a family doctor at the Zhongliang Community Health Service Center in Beijing's Shunyi district, said that of all 1,200 residents in the community, about half have signed up with him, the sole family practitioner in the center.
"The biggest difficulty in promoting family doctors in Beijing is lack of enough qualified doctors," Wang said. "In some areas a family doctor may not even have a bachelor's degree and cannot provide medical services; they can only provide public health services or prescribe drugs, so local residents lack trust and still prefer to go to big hospitals for treatment."
The number of people covered by family doctor services reached 7.6 million as of May, accounting for 35 percent of permanent residents in Beijing, according to the city's health commission.
Beijing residents can sign up with family doctors in their communities for free because of subsidies from the city government.
(Source: China Daily)