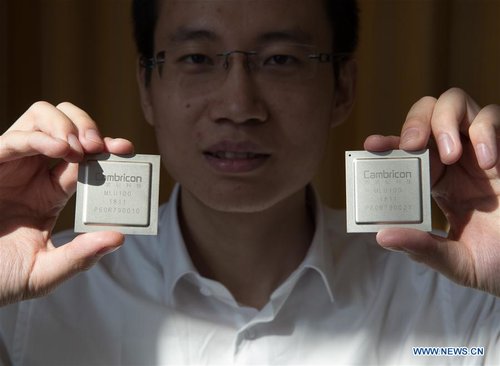 Cambricon Technology CEO Chen Tianshi shows a pair of MLU100 cloud AI chips in Shanghai, East China, May 3, 2018. [Photo/Xinhua]
At the recent China International Technology Fair, held in Shanghai from April 19 to 21, many medical enterprises exhibited robots for medical service purposes. Beijing News comments:
There are many steps involved in the diagnosing and treatment of a disease. For example, an X-ray photo may be taken, then analyzed, to diagnose what is wrong with a patient.
Traditionally, each of these steps is done by a human. However, AI is now playing a major role in some of the steps, too. For example, nowadays, machines can take X-ray photos and AI used to analyze them. In other parts of the health industry, such as care for senior citizens, robots are becoming more common. Which is good news for China as the number of senior citizens in the country is expected to reach 300 million by 2025.
And the biggest advantage of AI is that with the progress of big data, they will become adept at forecasting potential health problems and so they can be detected early when treatment will be more effective or preventive measures can be taken.
Moreover, AI will be able to easily analyze data collected from a large number of patients to support research and development of new treatments.
Of course, there are challenges, too, such as many patients might be reluctant to share their data for fear of personal information leaks. That requires doctors and science writers to spread more knowledge, as well as the authorities to take stricter measures to protect patients' personal information, so that everybody can benefit from the process.
Artificial intelligence and robots have big roles to play in a healthy medical industry.
(Source: China Daily)