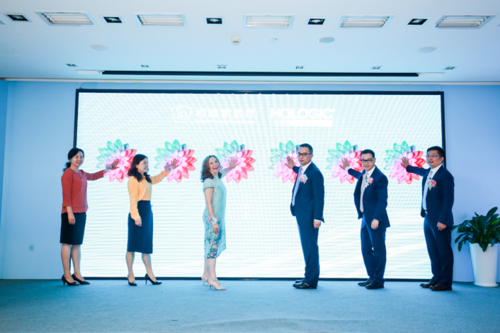 Guests launch the HOLOGIC accurate screening for the two cancers in Beijing on Wednesday. [China Daily]
HOLOGIC, a US-based medical technology company focusing on women's health and well-being, and United Family Healthcare (UFH), China's largest US-invested healthcare provider, signed a cooperation agreement to introduce HOLOGIC accurate screening for the two cancers into UFH to give patients in China access to early diagnosis.
When the two diseases are screened and diagnosed early, the five-year survival rate is almost 100 percent with accurate screening and early treatment. According to Professor Qiao Youlin of the Epidemiological Research Office, Institute of Cancer Research, Chinese Academy of Medical Sciences and Peking Union Medical College, cervical cancer is the only human disease with clear causes that is curable at early stages. He urged women to receive regular, accurate cancer screenings and protect themselves.
"Accurate" here means the right method, right frequency and right result.
Tan Xianjie, professor from the Department of Obstetrics and Gynecology, Peking Union Medical College Hospital, said the cervical cancer screening method currently most recognized around the world is a combination of the ThinPrep Cytology Test (TCT) and the human papillomavirus (HPV) virology screening, which is more effective to avoid missed diagnosis and misdiagnosis.
Cervical cancer occurs when the cells of the cervix grow abnormally and invade other tissues and organs of the body. When it is invasive, this cancer affects the deeper tissues of the cervix and may spread to other parts of the body.
An investigation by HOLOGIC and the Health Communication Institute of Tsinghua University last year showed more than 40 percent of women do not understand the development, preventive methods and early symptoms of the two cancers. Some 22 percent believe that the accurate screening for the two cancers is only necessary when there's obvious body discomfort, and more than 30 percent are completely unclear about which screening method is more accurate and effective.
HOLOGIC accurate screening for the two cancers is more precise because it adopts the FDA-approved 3D breast tomography technology to improve the detection rate of dense breasts. It can reduce the impact brought by the overlapping of normal breast tissue and lesion tissue in the screening, according to Li Yongzhong, director of the Imaging Department of Beijing United Family Hospital.
Given the high incidence rate of calcification for breast cancer, with about 40 percent of patients with breast cancer first diagnosed as not showing signs of calcification, 3D digital mammography technology can clearly display the distribution, form and density of the calcification.
Roberta Lipson, president of the United Family Hospital, pledged an all-around effort to control, prevent and manage the diseases. The accurate screening solutions for the two cancers is a new initiative of the UFH to provide continual care for women and one step ahead for the hospital's high-quality medical services.
(Source: China Daily)