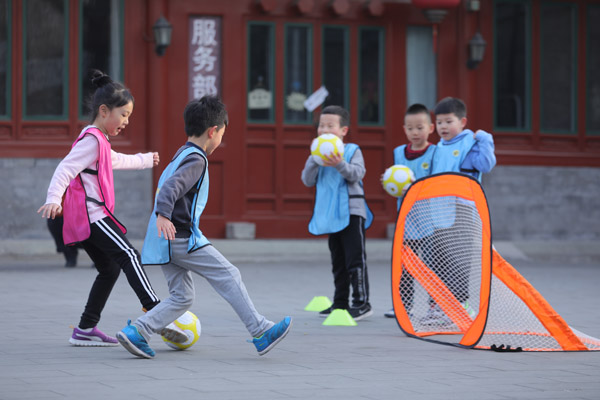 A group of kindergarten children play soccer outdoors. Chinese children are said to be lacking in physical activity and their exposure to smartphones and tablets are causing health problems. [Photo provided to China Daily]
Nowadays, Chinese children's lack of physical activity and their early exposure to such electronic products as smartphones and tablets are causing health problems like obesity and myopia.
Nearly 37 percent of students in the fourth year of primary school have myopia, and the proportion of obese boys was 8.5 percent and girls 5.1 percent in the same grade last year, according to the latest report on the quality of compulsory education from the Ministry of Education.
To find a way for Chinese children to get moving, give up a sedentary lifestyle and become healthier, a forum organized by the China Soong Ching Ling Foundation was held recently, which brought together experts, coaches and teachers to discuss ways to improve the quality of physical education in the country.
Zhao Huanbin, a professor from Hebei Normal University, says as currently the typical family structure in China involves four grandparents, two parents and one child (with the second-child policy introduced only in 2016), families can easily become overprotective of their children.
"The adults pick up and hold the children too often during infancy - that's why we found from our survey that many Chinese children have health problems related to their spine," says Zhao.
"And as they grow up, their parents tend to focus more on their academic performance instead of encouraging them to do more physical exercise."
He points out that it's crucial to help raise parental awareness about the importance of improving the posture of children, especially those aged between 3 to 6.
Wang Kaizhen, vice-president of the Capital University of Physical Education and Sports, says physical education for Chinese children requires qualified teachers who specialize in both preschool education and PE training, larger sports venues for children in neighborhoods and kindergartens, and standardized curricula for children's physical education.
In this context, the China Soong Ching Ling Foundation launched Play Fund, an education and health development program, in August, to help children develop an adequate level of physical fitness through providing them scientific and systematic physical education.
With help from experienced educators and trainers, a company which runs the Play Fund program, Yinglets, has set up a research-based curriculum system that gives children opportunities to explore and experience multiple sports in their early years.
Liu Hong, Yinglets founder, says their curricula would also teach parents and teachers how to play with children both at school and at home.
"We make individualized plans for different groups of students based on the assessments of their physical condition," says Liu.
"And by using our app, parents can track the child's progress and get advice on how to train the child and prepare nutritious meals for them.
"For instance, parents of a pigeontoed child can learn how to improve the condition by playing certain games with the child."
Liu says, as of now, nearly 600 kindergartens in Sichuan and Shaanxi provinces have adopted the PE courses for two semesters.
And they want to work out solutions for kindergartens across the country by cooperating with more domestic and foreign experts and institutes.
Fionn Wright, an Irish neuro-linguistic programming and neuroscience coach who works with the company says they are trying to get the children to do different types of movements like taking a sudden turn, kicking things and climbing trees that they may seldom do now, and at the same time ensure their safety.
"As they are not growing up in a natural environment anymore, we need to guide them through all types of movements," says Wright.
Yuan Yuan, the principal of a public kindergarten in Chengdu, Sichuan province, agrees that apart from scientific physical education curricula, kindergartens also need to provide surroundings that stimulate students to do physical activities.
"We have changed a long passageway in the kindergarten into a racetrack, hence, when our students step onto the track every morning on their way to the classrooms, they get an impetus to run or do other kinds of exercise," Yuan says.
Experts, coaches and teachers discuss ways to improve the quality of physical education in China at a recent forum organized by the China Soong Ching Ling Foundation. [Photo provided to China Daily]
(Source: China Daily)