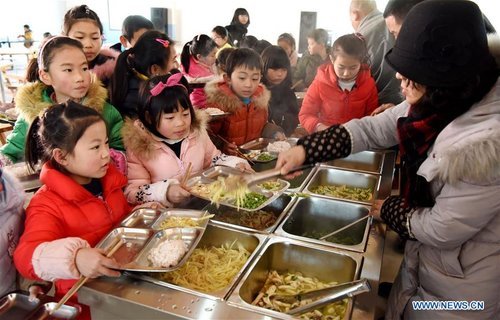 Children get free meals at a charity school in Hangshan Village, Taihe Township, Nanfeng County, east China's Jiangxi Province, Feb. 5, 2018.[Xinhua/Song Zhenping]
China's Ministry of Civil Affairs recently announced a nationwide pilot scheme to better protect so-called "left-behind" children and those in plight in rural areas.
The scheme will select demonstration counties across the country.
Those that have, in the past two years, had a record of incidents where children's rights and interests were violated, or failed to provide "left-behind" children with household registration or registration of custody, will not be eligible for the selection.
Following National Guidance on Protection of Left-behind Children and Children in Plights in Rural Areas, the selected demonstration counties must have a system in place to raise the minimum standard of living for orphans and children in plight; and, establish an accident insurance system covering school students and such children.
They should also set up a dynamic monitoring mechanism to better administer these special groups, and build Children's Home centers in villages to provide activities, psychological counseling and interpersonal relationship adjustment for children.
(Source: clady.cn/Translated and edited by Women of China)