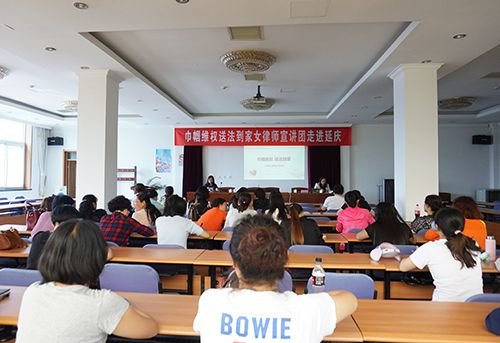 Attendees at the special lecture [Beijing Women's Federation]
Several lawyers from Beijing Wuchen Law Firm held a special lecture on May 16 in Yanqing District, Beijing, to teach over 50 female officials how to protect women's rights and interests under the anti-domestic violence law.
Domestic violence has always been referred to as "family cancer." It not only directly harms women's physical and mental health and their dignity, but also seriously affects family stability and social harmony.
Anti-domestic violence propaganda is of great practical significance for establishing an equal, harmonious and civilized marriage and family relationship; strengthening socialist ethics; and, promoting social harmony and progress.
In the lecture, in combination with several typical cases and legal provisions, lawyers explained the characteristics of and harm caused by domestic violence.
The lawyers also explained to women how to seek help from relevant organizations if they suffer from domestic violence.
The lecture enhanced women's awareness of protecting their own rights and interests and therefore helped effectively avoid domestic violence.
The lecture helped them understand how to use legal weapons to safeguard their legitimate rights and interests; improve their comprehensive qualities; promote family harmony; and play a positive role in building a happy family and a harmonious society.
(Source: Women Voice / Translated and edited by Women of China)