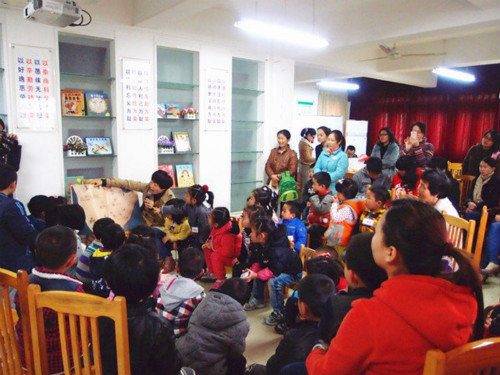 Children and their parents take part in a public reading gathering. [wenming.cn]
Officials in Nitang Community, Nanjing, east China's Jiangsu Province, have implemented a special program since last year to innovate their work mechanism, improve services and better protect children's rights and interests.
The Child Rights Advocacy and Child Protection program was originally launched by the National Working Committee on Children and Women under State Council, with Nitang Community chosen as a pilot area.
The project aims to build a child-centered community that is equipped with a professional team as well as comprehensive resources, said Wang Xiuqin, deputy secretary of Nitang Party committee.
Wang said the community has formed a joint work mechanism involving families, the government and social forces to better protect children's interests, improve education and encourage them to actively participate in activities.
For example, due to a family disaster, one young girl and her brother in Nitang became introverted and were unwilling to communicate with others.
After taking part in activities such as reading, handicrafts courses and other fun events, the two children become confident and now they can organize activities on their own.
The community features many convenient designs made especially for children. Organizers have developed two special routes to keep students safe when they travel to and from school, Wang said.
The community has also cooperated with various social organizations to carry out lively parent-child activities to boost relations among children, families and the community.
These organizations provide services such as childcare, basic knowledge courses for emergency and safety, and arts training.
In addition, the community has selected 20 parents who are capable and warm-hearted to establish a volunteer team that helps create a harmonious community environment so as to help children grow up healthily, according to Wang.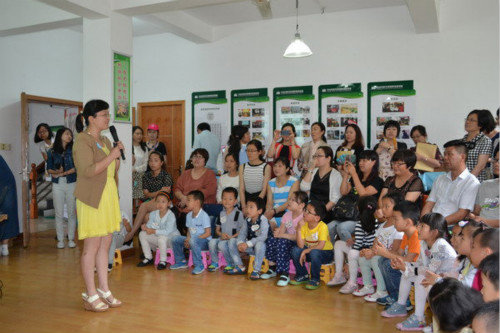 Participants at a parent-child reading activity [wenming.cn]
(Source: China Women's News/Translated and edited by Women of China)