The research group pays a visit to Qingshan District People's Court of Wuhan, central China's Hubei Province, on December 13. [hbwomen.gov.cn]
Officials from central China's Hubei Province convened a special research symposium at a local court in Wuhan on December 13 to discuss how to enact relevant regulations on tackling domestic violence.
The research group was led by Wan Xuebin, vice-chairman of the Legal Affairs Committee of Hubei Provincial People's Congress.
During the event, the group visited the Qingshan District People's Court and learned about the work undertaken there for solving family disputes and preventing domestic violence.
Later, staff of the court presented a report on their study and implementation of the anti-domestic violence law.
Meanwhile, officials from relevant departments including the municipal intermediate people's Court, the public security bureau, the civil affairs bureau, women's federations and representatives from social organizations, gave suggestions on making regulations to fight domestic violence in the province.
Wan affirmed the efforts made by the city in implementing the anti-domestic violence law and creating a work mechanism to integrate resources from six different departments.
Wan urged relevant workers to adopt good suggestions from those working at the primary level, popularize legal knowledge, and contribute their efforts to enacting a practical provincial regulation on anti-domestic violence so as to build a safer Hubei.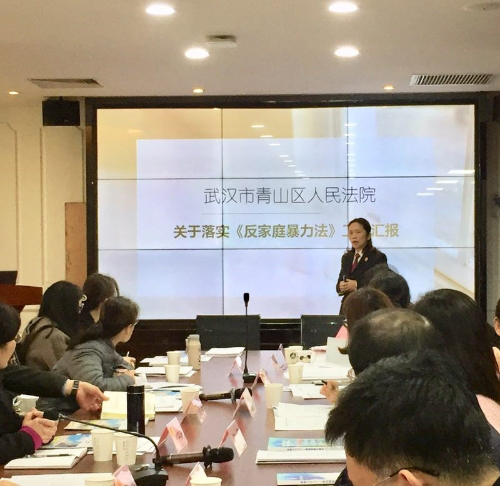 A member of the people's court delivers a report on studying and implementing the anti-domestic violence law. [hbwomen.gov.cn]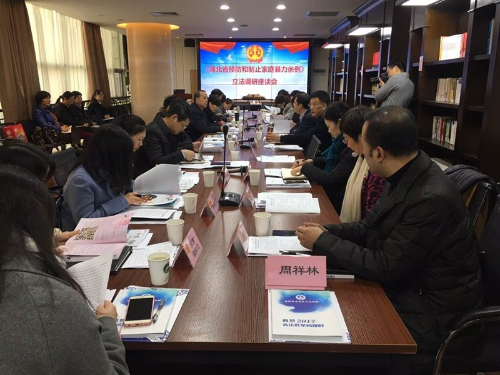 Attendees at the symposium [hbwomen.gov.cn]
(Source: hbwomen.gov.cn/Translated and edited by Women of China)