A screenshot from Quora [Xinhua]
A discussion on "Why do so many foreigners go to China and think China is so good?" recently caused a stir online after a user posted the topic on the world's leading question-and-answer website Quora.
Many international netizens, who have been to or are still in China, gave answers based on their own experiences. Here are some of the most popular answers.
Netizen Farzan Safavi, a lecturer, listed seven reasons.
"Population: China has 1.357 billion people, yet it manages to maintain stability among its citizens. That's a pure work of Art."
"Fastest growing economy: The country was illiterate, poor and backward compared to the rest of the world up until a few decades ago, but that changed and it's changing so fast. It's simply fascinating."
"Moral values: China is a collective culture, where family values, communities, and everyone matters. They work hard for the one ultimate goal to make the country better for future generations."
"Life experience: My everyday work is a life lesson, a challenge, a new experience and a new beginning. People appreciate my hard work here as a foreigner. They do not take my work for granted and they actually appreciate what I do for them."
"Entertainment: China offers an unlimited amount of entertainment, leisure and numerous activities for having fun. The nightclubs here are giant stadiums with IMAX 3D screens, and, they have things like escape rooms, unbelievable theme parks, outdoor natural parks and much more."
"Affordable high-quality life: If you're a professional expat, life in China can be rewarding. The economy is booming and there are a lot of opportunities available."
"People: Unconditional kindness, integration of the locals with foreigners, tolerance and acceptance and cheap travel within the country and Asia with high-speed train or affordable airfare are all many reasons why expats choose to live here."
"If you're serious about your career and would like to make an impact in the world,I believe China is a great destination. I am learning so many new things here. Basically, you have the freedom in China to innovate, be articulate and design new ways of doing things. I love China!," concluded Safavi.
Netizen Natalie Liam, a content writer, mentioned that Chinese people "still have thousands of years of traditions that they hold onto so very dearly," and then gave another four reasons.
"The Food: The variations of Chinese food are endless. Don't be misled by the Chinese restaurants in your country because that is definitely no match for what you will get in Mainland China."
"The People: The Chinese are known for their hard-work, efficiency and productivity. But that's just the tip of the iceberg. They are the nicest and most helpful people I have seen in all my travel destinations."
"The Places: Chinese architecture is different to what you will see in most places, usually in the non-business centers of China. Henan Province comes to mind. The amount of ancient architecture that you will see there at any given point in time is mind boggling. China is also home to thousands of museums, each of them consisting of significant counterparts that make up for the entire lifeline of China."
"Diversity: I was amazed by how much diversity I got from one city to the next. It was quite baffling how the lifestyle and the aesthetics change."
"But all in all you just have to get there and see for yourself. I can write more, but it would not do justice to how beautiful China truly is. I hope everyone sees it that way," suggested Liam.
Shao Y. H, who works in an international department of a Chinese high school, explained it from the view of his fellow teachers.
"One thing that does make teachers feel great to live in China is the developed mobile payment system. Once you get into the world of WeChat pay or Alipay (similar to Paypal) you'll find out that you don't need to take cash," wrote Shao. "Mobile payments can be used for anything, from stores, taxis, bicycles to restaurants. They're even supported by people who sell food on the street."
"One of my professors indicated that they love this because it is much safer than carrying cards! Just take care of your phone. Well, even if you lost it, no one can really spend money with your phone — they need the password and fingerprint," added Shao.
Becky Zhang, who has taught Mandarin Chinese to foreigners for eight years, raised three freedoms she most often hears about from foreigners in China.
Firstly, having the "freedom" to not own a car and to be able to get around on public transport; secondly, the "freedom" of walking anywhere at any hour and not fearing for your safety; thirdly, the "freedom" of buying alcohol at any hour and being able to drink it on the street.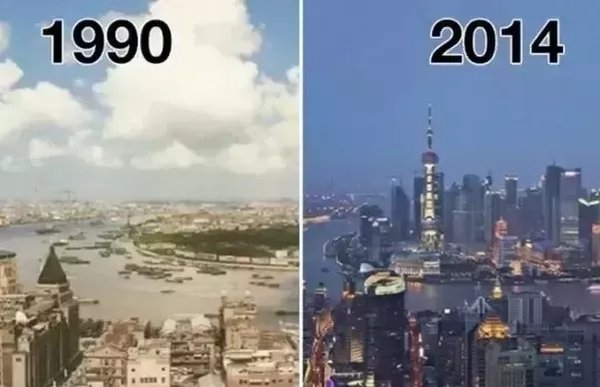 Safavi posts a photo collage of Shanghai captured in 1990 and 2014 respectively to show China's fast growing economy. [quora.com]