A tutor (L) teaches children to play hand drums in the city of Urumqi, northwest China's Xinjiang Uygur Autonomous Region. [ts.cn]
Women's federations, at different levels, across China have taken advantage of their organizational strengths in improving social services in regard to childcare, say officials.
The All-China Women's Federation (ACWF) has put forward multiple proposals related to childcare during the annual "Two Sessions" meetings, namely the National People's Congress and the Chinese People's Political Consultative Conference.
The ACWF called for the involvement of early childhood education in public services and the establishment of a cross-department collaborative work mechanism.
The federation has also advocated that the central government should issue laws, regulations, and guidelines to advance the childcare industry from an overall perspective.
Other suggestions have included the building of a government-backed system consisting of multiple types of childcare service corporations; the construction of professional and standard childcare facilities; and, the promotion of relevant government-funded services among households or communities.
ACWF's Childcare Initiatives
Since 2013, the Department of Family and Children's Affairs of the ACWF has carried out a pilot community-based family education campaign in the provinces of Shanxi, Hubei, Hunan, Guizhou and Hebei.
Women's federations in those areas have stuck to the work principle which regards children as the core, the family as the basis and communities as supportive parts.
The initiative has enabled households to gain easy access to early childhood education materials.
For example, parents can obtain knowledge by visiting local community centers or attending family-visit tours by experts. They can also join regular parent-child activities.
So far, the campaign has launched 146 childcare service centers in communities and villages and covered nearly 10,000 infants under three.
The campaign has been recognized by local Party committees and governments of places where it was implemented. In Furong District of Changsha, Hunan Province, local women's federation previously submitted an act to the local government about issuing a work plan in developing family-based childcare services.
The district government also involved children's preschool education as an important part of its local plan from 2016-2020.
Hubei Women's Federation promoted the government-funded public services among households and chose 10 more communities as project sites.
Childcare in Poverty-stricken Regions
To act in line with the China National Program for Child's Development (2011-2020), China launched its first targeted program to improve children's health in abject poverty regions.
During the program, the ACWF and the National Ministry of Health (the National Health and Family Planning Commission currently) jointly offered multiple women-related services such as nursing and education to under-threes.
Meanwhile, nationwide women's federations at different levels have made use of organizational strengths in collaborating, supervising and offering training in the industry.
The ACWF also conducted research about children's nutrition and parenting styles in poverty-stricken regions.
With the help of mainstream media, the ACWF released feature reports to raise social awareness on health improvements in impoverished areas during Children's Day which falls on June 1 annually.
Grassroots organizations also use multiple channels to promote childcare services via TV, the Internet, and lectures.
In particular, families can receive free childcare text messages and learn scientific approaches to nursing, diet, and health during on-air lectures or lessons.
Parents can also visit Women's Home activity centers, children's activity rooms or town-level health centers for information.
Statistics indicate the central government had allocated supportive funds worth 900 million yuan (U.S.$ 136 million) and benefited 2.62 million children by the end of 2015.
In the city of Yichang, Hubei Province, children read a book under the guidance of a volunteer (L) who attended training at the Early Childhood Care and Education Center of UNESCO. [Women Voice]
A volunteer records a child's height and weight at a childcare service community center in Xiangyang City, Hubei Province. [Women Voice]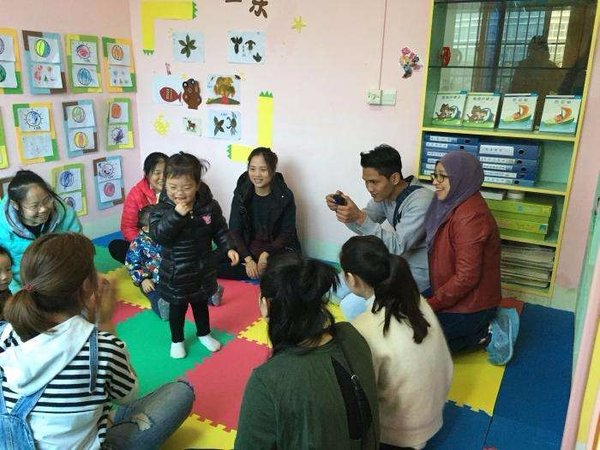 A team of officials from the UN Children's Fund visit a childcare service community center in Hunan. [Women Voice]
(Source: China Women's News/Translated and edited by Women of China)