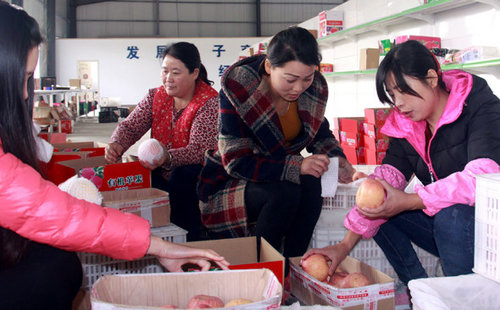 Niu Qinghua and her employees pack apples, which will be sold across the country. [China Daily]
Road construction in the countryside and improved internet access helped Niu Qinghua, a woman in a rural region of Shandong province, transform from being a housewife to an "e-commerce queen" in two years, with online sales hitting 6 million yuan (U.S. $956,300) last year.
Niu, 35, became a saleswoman in Qingdao and Weihai after she graduated from junior high school in 2000. When she got pregnant, she went back to her hometown - Beiyanzi village in Linyi - in 2007.
Niu lived on a farm raising hogs and took care of her little son by herself while her husband worked away from home.
"I had less than 1.5 hectares of land then, some of which was used for feeding pigs, and I grew apples and peaches and other crops on the rest of the land," said Niu.
"I went to pick the peaches on the hill at 4 am in the summer, and had to make it to the county market at 7 am before purchasers left or my peaches would be wasted," she said. Niu said she could earn nearly 25,000 yuan every year.
Mengyin county was once infamous for its poor, outdated transport infrastructure, and Niu's livelihood also suffered from substandard road conditions in her village. "All roads in my village were bumpy dirt roads. On a rainy day in the summer of 2012, I drove a motorized tricycle loaded with chestnuts weighing almost 500 kilograms along the roads," she said.
"When making a turn, my vehicle suddenly flipped over and one of my legs was pinned," she recalled. "I couldn't move until two men passing by found me. So, I thought again and again that if only our village had smooth roads I'd be much better off."
According to Niu, poor road conditions had a negative effect on the quality of her product.
"Fruit like peaches would be bumped and severely bruised during the long journey, and that's quite bad for our sales."
Things went better after e-commerce came along and the roads were improved.
In 2015, the Mengyin government upgraded switchback roads from dirt to cement. And in November 2015, Niu attended a free e-commerce training class in her village held by the local government. She was amazed that she could make money without going outside and on that very day she opened her first Taobao shop.
Over the following days, Niu also participated in other training on how to operate an online shop, design advertising pictures and so on. "At that time, I would watch morning news every day because I was far behind the times," she said.
At the end of 2015, Niu finished her first order from the Guangxi Zhuang autonomous region - 5 kg of hawthorns - earning 56 yuan.
"I was so excited, and I added that buyer's WeChat to express my gratitude and ask for advice," she said with emotion, "and was sure I could stand out in the online shopping market."
As orders increased, she could not grow enough fruit and crops for online sales, so she called on her relatives to join her Taobao shop. "If we sell fruit online, our price can be much higher than offline because our village's fruit is much better than others. We use few chemical fertilizers."
Niu bought various fruit and crops, such as peaches, apples, peanuts and hawthorns from other families including 16 poverty-stricken households. Since then she has received hundreds of orders from her online shop each day.
"Now a 6.8-meter-wide truck can travel to my doorway. And if orders are made this morning, buyers in Shanghai can receive them tomorrow."
In 2017, sales volume of Niu's online shop reached 6 million yuan, which she expects to double this year.
Now, Mengyin county has realized that all poor villages can be reached by car, and 1,878 poverty-stricken families emerged from poverty in 2017.
"Good road conditions benefit several generations," Niu said.
(Source: China Daily)