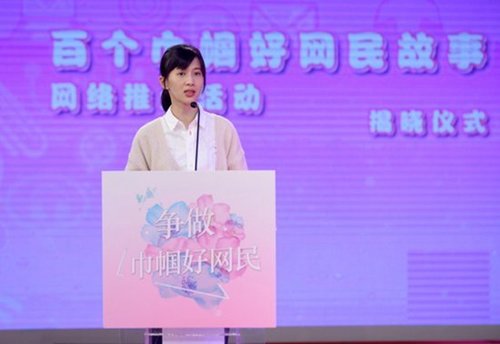 Papi, an internet celebrity, launches a special course for the public in February to share her view about women's strengths online. [Women Voice]
The All-China Women's Federation (ACWF) has continuously promoted its project that encourages women to be civilized netizens, in cooperation with the Office of the Central Cyberspace Affairs Commission (CAC), over the past year, according to a recent announcement.
The program, which is designed to popularize network security knowledge and spread positive energy, was first launched in April 2017.
It has since been developed by ACWF's Publicity Department who notably organized an online selection campaign themed "100 Stories of Civilized Female Netizens".
In February 2018, the internet celebrity Papi released an open course to share her views about women's strengths on the internet, to subsequent high acclaim.
"Civilized female netizens should be full of curiosity about the world. They are eager to communicate with more people and happily share their experiences, views and feelings with others. For them, the internet is a spiritual home outside the real world," said Papi.
"Meanwhile, the web is a public environment consisting of all people. It should be regarded as a green public space in our community which needs everyone's care and protection. Only if we don't trample or hurt it, will the green space always be luxuriant," she added.
According to statistics, there are now 772 million online users in China, of which female netizens account for 47.4 percent.
The campaign for 2018 highlights its role of giving political guidance.
Organizers have integrated this project into the campaign Following Party's Leadership, Making Contributions in New Era, and will use different social media to popularize it and encourage more women to take part.
Second, the project this year will make full use of female netizens' abilities to improve education on network civilization.
In 2017, Professor Yu Dan, deputy director of School of Arts and Communication of Beijing Normal University, delivered a speech themed "Women and the Internet" at the launch ceremony of the project.
This year, the themed activity will focus on constructing a civilized Internet environment; ensuring women's safety in cyberspace; spreading positive energy; and, launching open courses concerning women and the internet.
Third, the project aims to further strengthen the demonstration effect of the "100 Stories of Civilized Netizens" selection.
Organizers will shoot publicity videos, carry out sharing sessions and collect outstanding cultural products to encourage women to make more positive online products.
Moreover, staff members of the project recently summarized their successful experiences from last year and plan to set up a panel of judges to report unhealthy information which undermines the image of women and policies.
Furthermore, the project aims to unite influential online female celebrities to communicate network security knowledge to society and stress the importance and achievements of women's cause.
Professor Yu Dan, deputy director of the School of Arts and Communication of Beijing Normal University, delivers a speech at the launch ceremony of the Strive to be a Civilized Netizen project. [Women Voice]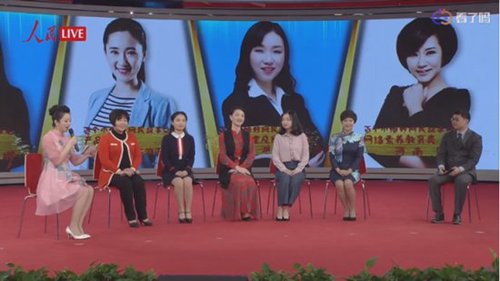 Attendees gather at an event to share stories of civilized netizens. [Women Voice]
A screenshot of the "Be a Civilized Netizen" project [Women Voice]
Influential online female celebrities give speeches on communication and security knowledge. [Women Voice]
(Source: Women Voice/Translated and edited by Women of China)