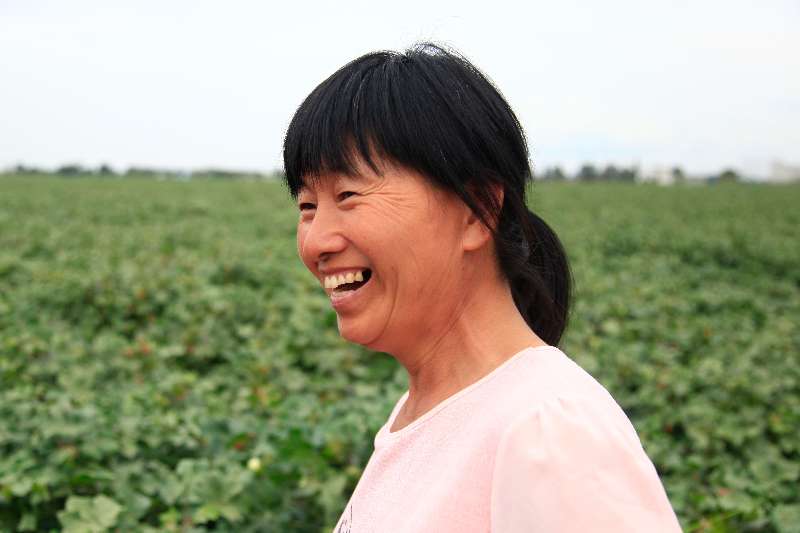 Xi Xiaolei, a worker at Company 4, 102th Regiment, Sixth Division of the Xinjiang Production and Construction Corps, stands by her cotton fields in Wujiaqu, Northwest China's Xinjiang Uygur Autonomous Region, on Aug 13, 2018. [China Daily]
In Wujiaqu of Northwest China's Xinjiang Uygur Autonomous Region, a city built and administered by Bingtuan — or the Xinjiang Production and Construction Corps (XPCC) — economic vitality is on the rise, as the XPCC has deepened reform, modernized agricultural industry and developed high-tech industry.
Xi Xiaolei, a worker at XPCC Sixth Division's 102th Regiment Company 4, told China Daily Website the free agricultural land allotted to her has increased from more than twenty mu to 50 mu (0.03 square kilometers) since the confirmation of land rights was carried out in the division last year.
"The annual income of my family is about 100,000 yuan and we can make more money this year through planting more seed-melon and cotton, thanks to the confirmation of workers' land rights," Xi said.
The confirmation of land rights is an important part of XPCC's strategic plan to deepen reform. Zhang Wuping, head of the 102th Regiment, said the reform, having been promoted for more than a year, reshaped the relationship between the farm and the workers and brought workers more benefits.
Last year, the average annual income per capita of Company 4's workers was 65,000 yuan, a 30 percent increase year-on-year, according to Zhang.
Incomes aren't the only things improved through the reform. Workers of XPCC Sixth Division are also benefitting from the development of agricultural modernization.
For Xi, planting cotton is no longer a heavy job in the fields, since agricultural machinery and equipment can replace most of the manual work.
"There is a drop-irrigation tube in the cotton field and it only takes half a day for cotton pickers to harvest the field, which saves me a lot of time and effort," Xi said.
She only needs to spend about 20 yuan per mu hiring cotton pickers.
In the Sixth Division of XPCC, Xinjiang Junggar Yinfeng Agricultural Equipment Co Ltd, founded in July 2012, has 33 technicians and 149 cotton pickers.
The company, mainly providing mechanized cotton harvesting services for seven planting farms in the Sixth Division, has completed a total of 1.65 million mu of land harvesting operations, earned an income of 229 million yuan and realized a profit of 52.25 million yuan since 2012.
Liu Xunzhang, vice president of Xinjiang Junggar Yinfeng, said the cotton-picking season usually starts from the end of September or early October and lasts 35 days.
"To harvest 300 mu of cotton fields, it can save a cost of 600 to 700 yuan by using cotton pickers rather than hand-picking. In addition, farmers can increase their income by 20,000 to 30,000 yuan if they get trained and involved in the mechanized cotton harvesting operation," Liu said.
Ding Tongtao, a 24-year-old cotton picker driver and maintenance technician, has worked at Xinjiang Junggar Yinfeng for three years. He got cotton picker driving training for free from the company and now can earn 30,000 to 40,000 yuan during the 35-days cotton-harvesting season.
In addition to promoting agricultural modernization, Wujiaqu has also witnessed the development of the telecommunication, information and communication technology industries over the past year.
FiberHome Telecommunication Technologies Co Ltd, a globally renowned information and communication network product and solution provider, inked a cooperation deal with XPCC and established a subsidiary focusing on optical communication, cloud computing, and big data in Wujiaqu last year.
The subsidiary's first-phase fiber optics project was put into production last September and optical fibers produced by it have been widely used in Xinjiang's telecommunication construction, according to the company.
Lan Hai, vice president of the company, said the company not only accounts for a major share of the domestic market but also exports its optical fibers to the world.
"Currently, Southeast Asia is our major overseas market. With Xinjiang's regional advantages under the Belt and Road Initiative, we will march into the markets of Central Asia, Middle East and North Africa," Lan said.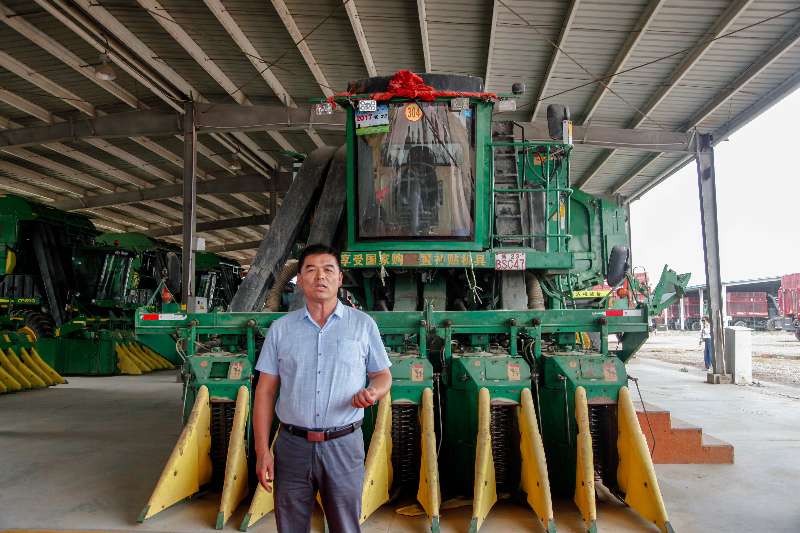 Liu Xunzhang, vice-president of Xinjiang Junggar Yinfeng Agricultural Equipment Co Ltd, talks about the company's cotton pickers in Wujiaqu, Northwest China's Xinjiang Uygur Autonomous Region, on Aug 13, 2018. [China Daily]
Ding Tongtao, a 24-year-old cotton picker driver and maintenance technician, works at Xinjiang Junggar Yinfeng Agricultural Equipment Co Ltd. [China Daily]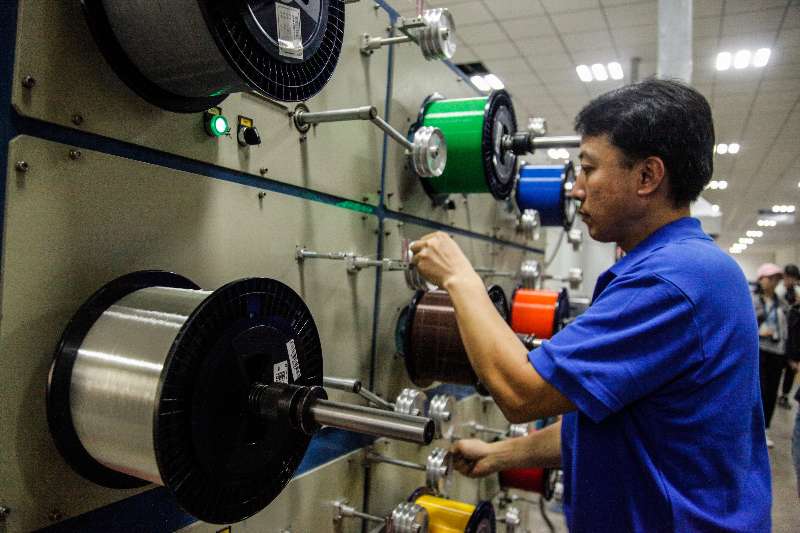 A technician works at a workshop of a subsidiary of FiberHome Telecommunication Technologies Co Ltd in Wujiaqu, Northwest China's Xinjiang Uygur Autonomous Region, on Aug 13, 2018. [China Daily]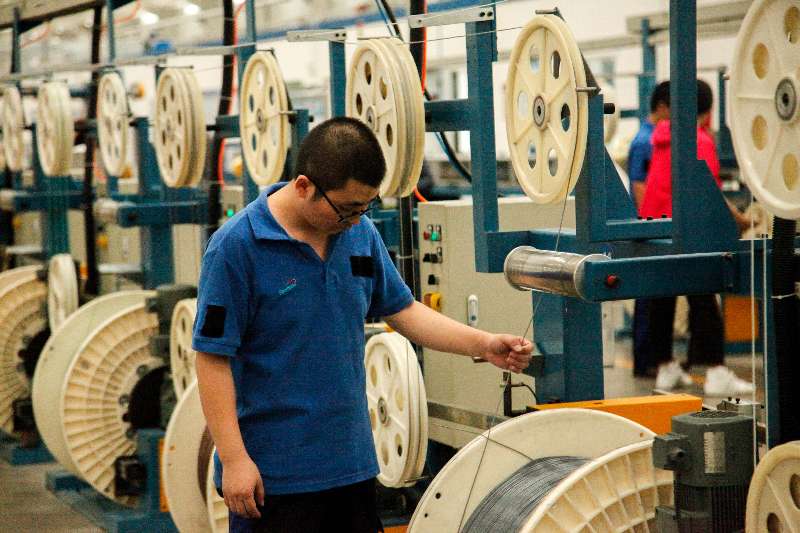 A technician works at a workshop of a subsidiary of FiberHome Telecommunication Technologies Co Ltd in Wujiaqu, Northwest China's Xinjiang Uygur Autonomous Region, on Aug 13, 2018. [China Daily]
Cotton grows in a field in Wujiaqu, Northwest China's Xinjiang Uygur Autonomous Region, on Aug 13, 2018. [China Daily]
(Source: China Daily)