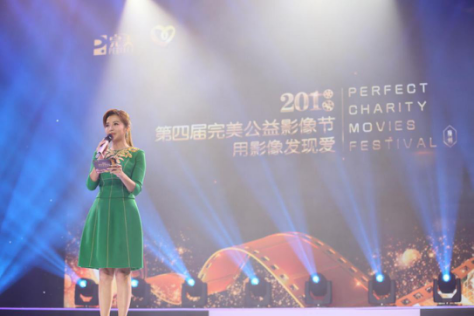 Zhu Xun, a famous host of CCTV, participates in the fourth Perfect Charity Movies Festival. [Xinhua]
Organizers held the 4th Perfect Charity Movies Festival on December 8, 2018 at Jinan University in southeast China's Guangdong province to arouse young people's awareness of volunteering.
The activity was hosted by lifestyle products brand Perfect (China) and other organizations including China Women's Development Foundation, China Narcotics Control Foundation, Chinese Language Education Foundation and China Youth Development Foundation.
The event was also supported by Zhongshan Charity Federation and China News Service.
As part of the festival, Perfect donated 60 million yuan to the foundations and charities for poverty relief, education, women's causes, public-welfare and care for the disadvantaged groups.
With the theme of "Saluting to the Nation's Backbone through Movies", the festival aimed to help youngsters learn from role-models in philanthropy.
According to Gu Runjin, chairman of Perfect, this year marks the 40th anniversary of reform and opening-up, which has provided the basis for the steady development of Perfect during the past two decades.
This year, by sharing the stories of heroes in public welfare, the festival organizers called on the public to spread warmth and kindness towards all Chinese people both at home and abroad.
The festival comprised of six parts attracted the participation of many celebrities, who presented the stories of philanthropic role-models.
Ten representative and influential charity movies were exhibited during the festival. The movies recorded the deeds of 10 ordinary people who carried out outstanding philanthropic endeavors.
The 10 role-models included Mao Shihua, who provided affordable meals for impoverished children; Guo Xiaoping, who established a special school for students with HIV; and, Jiao Bo, who accompanied six orphans after the Wenchuan earthquake for a decade and recorded their growth by camera.
Other exemplary figures were: a Perfect employee who has been a blood-donor for 20 years; Liang Bing, a Thai-Chinese man who spent all his life teaching Chinese; and, Ye Jiaying, 94, who donated her fortune to publicize poetry.
Besides, movies shown at the event featured the stories of Zhu Xiaopeng from Tsinghua University, a doctor in wheelchair; hero test pilot Li Zhonghua; and, two sisters, Zhuo Ga and Yang Zong, who won August 1st medals as frontier guards.
Meanwhile, Perfect announced the establishment of Perfect University, which will cooperate with many other famous universities, so as to set up a study system in accordance with enterprise development.
During the ceremony, Xu Huowei, vice chairman of Perfect, made a speech titled "How to Make Greater Contribution to the World". He depicted the prospect and ideology of the Perfect University, which aims to helping those who are eager to change their life through education. By training them, the university hopes to make more contributions to families, enterprises and the society.
For the past two decades, Perfect has always attached great importance to charity works and created many charitable projects such as Chinese education, hope projects, blood donation, anti-drugs, and charity. The total amount of donations has reached nearly 800 million yuan.
The Perfect Charity Movies Festival has been held successfully for four consecutive years. With more and more people joining public welfare actions, Perfect will make greater contribution to alleviate poverty and build a harmonious society, according to a spokesperson.
Gu Runjin, chairman of Perfect, delivers a speech. [Xinhua]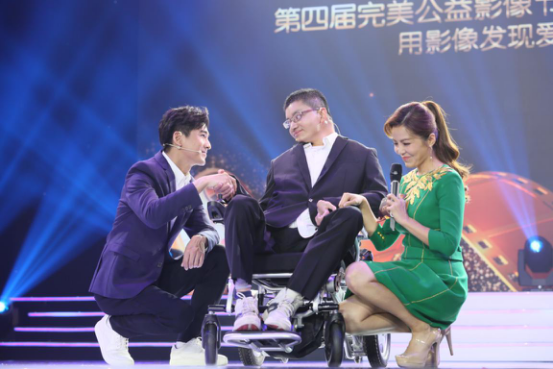 Qiao Zhenyu, ambassador of beneficence and Zhu Xiaopeng, best benignity representative from Tsinghua University, doctor in wheelchair [Xinhua]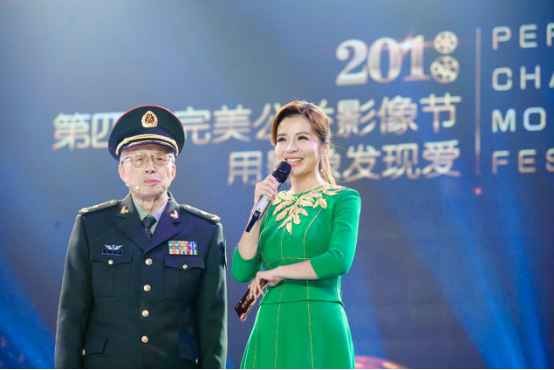 Best benignity representative: Zang Kemao, professor of Army Armored Force Engineering Institute [Xinhua]
Yu Kewei, as an ambassador of beneficence, performs a theme song. [Xinhua]
(Source: Xinhua/Translated and edited by Women of China)