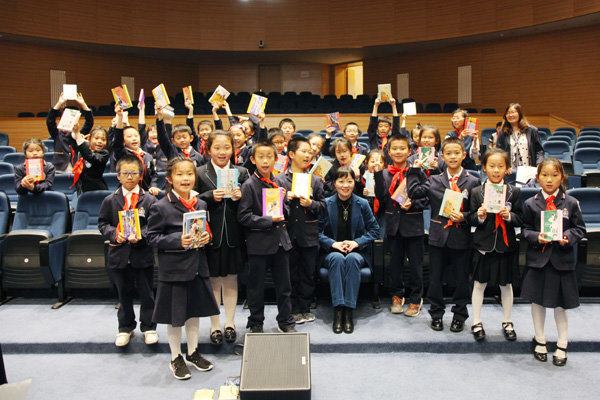 Yin Jianling with a group of youngsters who love reading her books. [For China Daily]
The 29th National Book Expo will be held in Xi'an, Shaanxi Province, from July 27 to 30. More than 1,000 publishing-related organizations from 30 provincial administrations, and representatives from countries involved in the Belt and Road Initiative will attend the event, which is estimated to attract 30,000 visitors.
The expo will feature books that celebrate and mark the 70th anniversary of the founding of the People's Republic of China. Digital publishing, technology, IP-centered publishing, and the heritage of the Silk Road will be topics of discussion.
One trend in the publishing industry, according to organizers, is that publishers are eyeing the young reader market, aiming at helping people from younger generations to savor the fun of reading.
Here are some highlights of the news and new releases from publishing circles in May.
The books introduced cover a wide range of topics, from ancient festivals to modern reflections of the new era, from the genre of bildungsroman (stories of formative years) to detective thrillers, as well as series such as Look Inside and Harry Potter.
Academic look at theories
China Social Sciences Press released a collection of 12-volumed books of Studying Xi Jinping Thought on Socialism with Chinese Characteristics for a New Era.
The collection presents the combined research and studies by a number of experts and scholars over the past three years, highlighting the academic excellence of the Chinese Academy of Social Sciences.
The collection covers philosophy, political economics, diplomacy, culture, management of the Party, and the governance of China to reveal a full picture of the mechanisms and contributions of Xi Jinping Thought.
Zhao Jianying, president of the China Social Sciences Press, says they tried to turn political discourse into academic discussions to provide an academic reference point for readers both at home and abroad.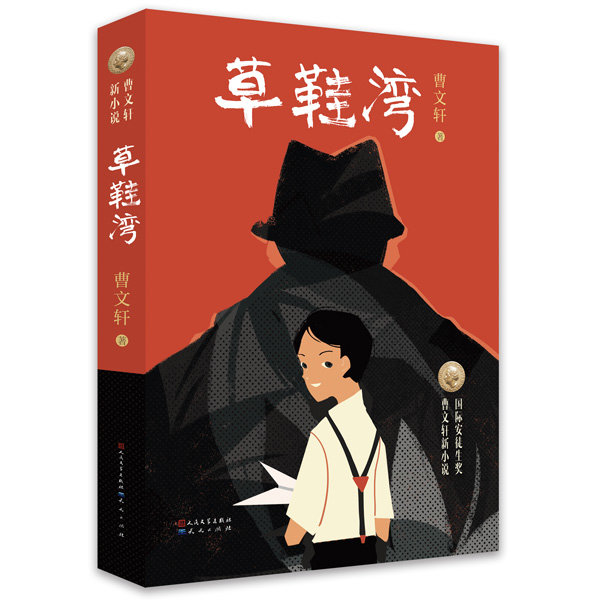 The cover of Cao Xie Wan. [For China Daily]
Father-son detectives
Writer Cao Wenxuan, a professor from Peking University, and the first Chinese winner of the Hans Christian Andersen Award, who won the "Nobel" for children's literature and illustrations in 2016, does not seem to have any post-award writer's block.
After his award, he released three novels, which sold 900,000 copies and saw their copyrights sell to Arabic, Japanese and Turkish publishers. Now he is presenting his fourth novel since 2016: Cao Xie Wan ("bay of straw sandals").
Set in Shanghai during the 1940s, the novel is about a detective called Sha Qiuke and his 10-year-old son Sha Xiaoqiu who uncover some unexpected truths as they solve an abduction case.
Cao says this story was inspired by a William Somerset Maugham's quote saying that a detective always takes his youngest son to work, and it is his version of detection that departs from others with his unique aesthetic thought and insight.
Bittersweet early years
Fireworks is Li Donghua's latest novel about school life and a bildungsroman story of a class of 14-year-old teenagers.
Li is known for her writings for kids and teenagers, and is currently deputy director of the Lu Xun Institute of Literature under the China Writers Association.
The novel starts with Ai Mi, a plain-looking, hardworking girl who is jealous of a pretty girl with flaxen hair who has just been transferred to Ai's class. As they grow up, sad developments occur and they learn harsh lessons.
Li's works have delicate wording and poetic sentences, and address issues in deep dimensions some other writers of children's fiction might choose to ignore — subjects about the nation, the pain of growing up, and the essence of human life, according to Cao Wenxuan.
The cover of Ancient Poetry Hidden in Traditional Festivals. [For China Daily]
For those under 18
The Collection of Yin Jianling Classical Works for Children published by the Encyclopedia of China Publishing House is an anthology of Yin's literary creations spanning 30 years.
The publisher redesigned and commissioned new illustrations for the collection. Ranging from essays, novels, short stories, and aimed at readers below 18, the collection is comprised of five book categories — for younger kids, for teenagers, about the good old days, adolescence and affection for family and kin.
Surviving ancient festivals
The book, Ancient Poetry Hidden in Traditional Festivals, by history writer Zhang Xuefang, introduces through ancient poems 16 traditional festivals, some still being observed as they were 1,000 years ago. Others have faded and been forgotten, but the poems about them are remembered, and the poems explain them in detail.
Zhang is good at telling stories in a cheerful tone, and unveiling the secrets that lie between the lines.
Traditional festivals carry with them Chinese memories, rituals, and ideas that have been passed down for thousands of years that remain unchanged. Zhang believes poems and songs from the ancient times on the festivals and their celebrations contain information that helps to decode Chinese genes.
The consistency of the Chinese language, especially in written form, enables Chinese people to connect with their ancestors and carry on the cultural traditions in their daily lives.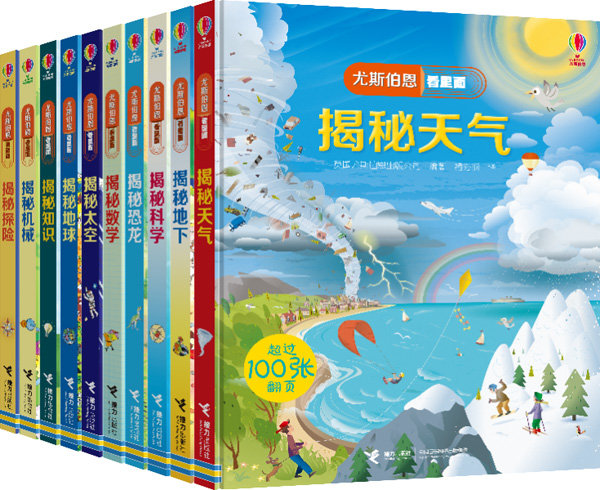 The cover of the See Inside series. [For China Daily]
Usborne Flip-flap series
The time-honored Usborne's Look Inside series from the United Kingdom has arrived in China.
Previously with its two other series, See Inside and Peep Inside, Usborne Publishing has both educated and charmed young readers in 37 countries and regions for years, and sold 100 million copies worldwide.
Usborne has now published a See Inside book on ancient China.
Jieli Publishing House has been Usborne's authorized Chinese publisher since 2018. Jieli has brought three of Usborne's writer-editors to visit five Chinese cities. Jane Chisholm, Anna Milborne and Katie Daynes say they have 20 writer-editors and 20 designers, many of whom are Oxford and Cambridge graduates. It takes one year or more for them to plan and finish a flipflap book. Their boss, Peter Usborne, started four decades ago and prides himself on still having "the mind of a child".
The editors, who are also writers of the books, have enjoyed trips to visit famous architectural sites such as the Palace Museum.
China is "so big and so important, and globalized", they say, adding they would "pitch more books on China, not just because they're Chinese, but because they're good stories".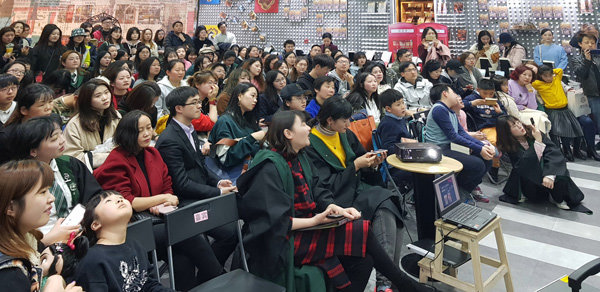 A recent Harry Potter book release turns into a fans' cosplay party in Beijing. [For China Daily]
Bilingual Harry Potter
It's almost 20 years since the first Harry Potter book was introduced and translated into Chinese. One of its translators, Ma Ainong, says what author J.K. Rowling achieved was turning children's attention from the internet and TV back to reading books.
In China, too, there are an increasing number of young readers who are able to read the books in their original language of English.
The first bilingual version of the Harry Potter series, by Rowling and her Chinese translators, would be a great help for them to elevate their understanding of the text, and in the meantime appreciate the art of translation, as well as the beauty of both languages.
The editors say the English texts are the latest, freshly revised ones authorized by the British publishers.
To create an evenly-balanced presentation, both languages are put on the double-page spread with English on the left and the Chinese on right.
(Source: China Daily)