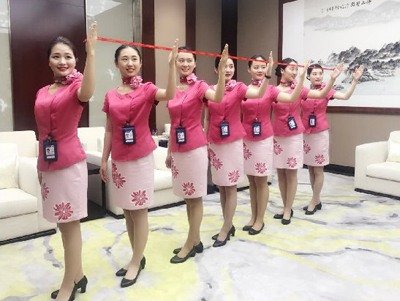 Female staff of the VIP service department of Yuanxiang International Airport Company practice gesturing. [China Women's News]
To greet the 9th BRICS Summit in Xiamen, southeast China's Fujian Province, two organizations with the title of National Civilized Women's Post have been working hard to provide strong safety and security work.
The medical center of Xiamen Airlines led a bio-hazard accident disposal drill; purchased automatic alcohol testing devices and heath checkup equipment which have been put into use since August 14; and, organized vocational studies and etiquette training for female staff.
The VIP service department of the ground service branch of Yuanxiang International Airport Company selected 50 security staff members last year. In June, the department started 14 training schemes in areas such as professional skills, BRICS nation leaders recognition, security and background of the summit .
Moreover, staff of the department helped deepen foreign guests' understanding of China's tea culture through their services.
(Source: China Women's News/Translated and edited by Women of China)