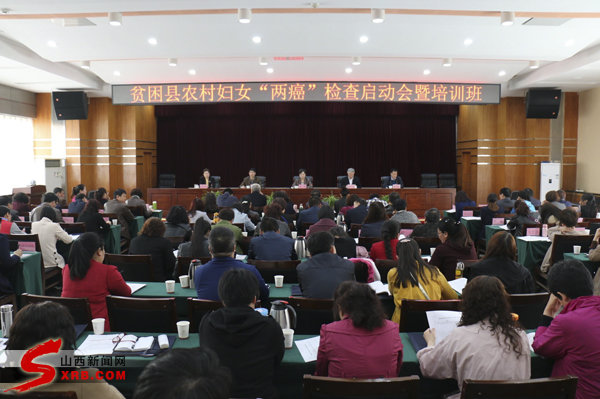 Participants at the opening ceremony of the free cervical and breast cancer screening services last April [sxrb.com]
North China's Shanxi Province allocated a fund of 34.3 million yuan (U.S. $ 5.4 million) for free cervical and breast cancer screenings in 2017 to raise local rural women's awareness and educate them on relevant preventive measures.
The free screening initiative, which was launched by Shanxi Women's Federation (SWF) and other local authorities last April, covered 276,000 rural women from ages 35 to 64 across 36 impoverished counties.
Due to underdeveloped medical technology and insufficient facilities in poverty-stricken counties, the incidence and death rates from cervical and breast cancer have remained high there for years.
The charity scheme greatly improved local women's awareness of the disease and boosted their willingness to undergo screenings ever since it was launched.
During a recent interview, SWF President Zhang Bao said about 800,000 rural women from across all poverty-hit counties would be covered under the program in the upcoming two years.
She continued that coverage would be expanded to all rural women from across the entire province in the next five-year plan.
Moreover, an official from the Shanxi Provincial Working Committee on Children and Women disclosed that practical assistance would be extended to those rural women diagnosed with the disease this year.
(Source: People's Daily/Translated and edited by Women of China)