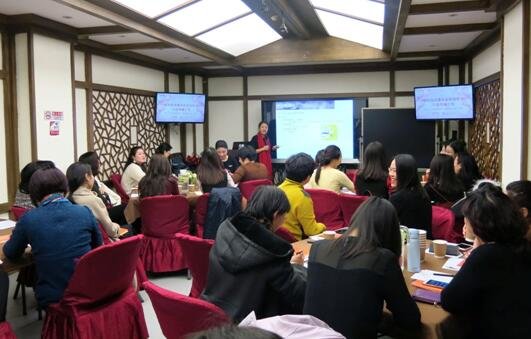 Attendees at the event [Xinhua]
China Women's Development Foundation (CWDF) recently held a training course to help female professionals attain better positions by raising their abilities in the workplace.
The Women's Leadership Training Course focused on public projects and communication skills.
The course was held in Beijing on February 4. More than 30 professionals attended the activity, and was sponsored by the Empowering Women Fund (EWF).
The EWF is a special fund co-sponsored by CWDF and the Diageo Group in 2013 aimed at empowering women in society and economically by providing them with more opportunities to learn.
For the professional skills training component, Han Jing, a doctor at the Medicine Department of Peking University, was invited to lecture on "Leadership Philosophy for Women".
For the component on public projects promotion, CWDF officials presented Reassure Mother's Heart, an initiative set up by Wei Jie, a mother who has dedicated herself to helping parents who do not live with their children.
Han's project aims to alleviate the psychological stress of mothers who do not have a fixed workplace, as well as teach them communication and relative professional skills, thus improving their employment rate and helping them realize their self-value, said organizers.
Sponsors said the EWF will lead professional women to improve themselves continually and enhance their positions in society. It will also encourage more outstanding female talents to come together and push forward women causes in the new era.
(Source: Xinhua/Translated and edited by Women of China)