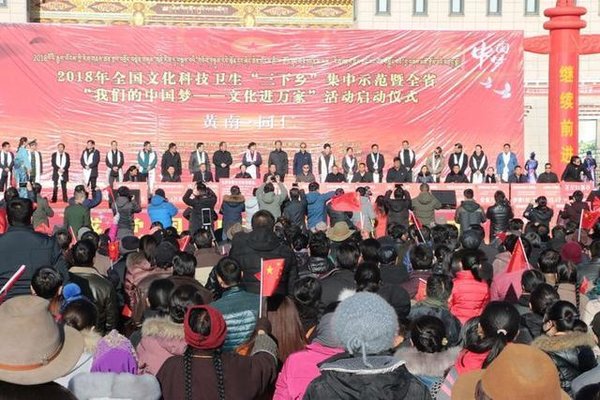 Attendees at the opening ceremony of the project [Women Voice]
The All-China Women's Federation (ACWF) organized an activity on January 23 to bring medical services and goods to rural areas of Tongren County, northwest China's Qinghai Province.
Organizers of the Chinese Dream, Culture for Families event delivered materials worth 4 million yuan (U.S.$ 631,000).
The donation included 20 children's activity centers, items from the Postal Parcel for Mothers project, and 1.8 million yuan (U.S.$ 284,000) on behalf of the Water Cellar for Mothers scheme.
Meanwhile, further donations were made by 18 government departments,such as the Publicity Department of Qinghai Provincial Party Committee; Qinghai Women's Federation; the Qinghai Provincial Development and Reform Commission; and the Qinghai Provincial Department of Education.
Staff from the government departments also organized a program of special activities on a rural town square for locals, and representatives from the Publicity Department of the ACWF paid visits to sick and impoverished residents in nearby villages.
(Source: Women Voice /Translated and edited by Women of China)