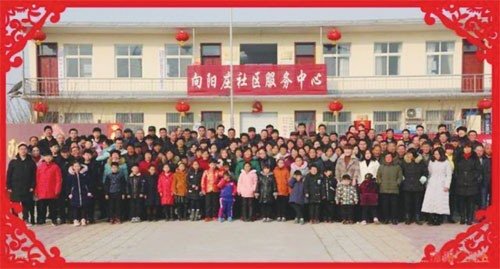 A photo of all villagers in Xiangyangzhuang [China Women's News]
Villages from central China's Henan Province have started to abandon bride prices, initiate taking pictures of all residents and compiling family genealogy, as well as fostering civilized family traditions, village etiquette and social stability since 2018.
Abandoning Bride Prices
The second day of the second month in the Chinese lunar calendar is believed a lucky day for Chinese.
On that day, falling on March 18, this year, a group wedding ceremony was held in Dawangji Town, Yongcheng City in Henan, with 10 couples tying the knot with "no bride price".
Li Zhonghua, Secretary of Henan Municipal Party Committee, served as a chief witness and sent his best wishes to the couples.
He also advocated that youngsters in the city respect the good traditions and abandon vulgar customs so as to actively nurture a new trend in civilization in a new era.
All newlyweds with "no bride price" will enjoy privileges promised by the government when they seek jobs and start their own businesses in Yongcheng. The government's support will make them feel a greater sense of fulfillment, honor and happiness.
A Photo of All Villagers
Over 300 people of all ages gathered and posed for a "family photo of villagers" in Xiangyangzhuang Village, Tangyin County, Henan, on the first day of the lunar new year.
On the same day, more than 1,000 people in Wangjiagou Village of Heshun County also assembled to take a special "family picture of villagers."
This was the first photo shooting event launched by the local village committee, which aimed to keep the villagers' beautiful faces and memories alive forever.
During the process of urbanization and modernization, villagers already realized that rural areas are faced with problems such as resource outflow, lack of vitality, aging population etc.
Since local landscapes have gradually been destroyed, it's very important to maintain the view of the village and the happy lives of the villagers. Taking photos of the villagers is therefore a necessity and warmly welcomed by local people.
Compiling Family Genealogy
Before the Spring Festival, the Henan Provincial Library displayed more than 200 families' genealogies collected from all walks of life last year.
Compiling a family history album is becoming increasingly popular in Henan. In addition to recording blood connections, a family's genealogy also records changes to villages and is imbued with fine family instructions and rules.
(Source: China Women's News/Translated and edited by Women of China)