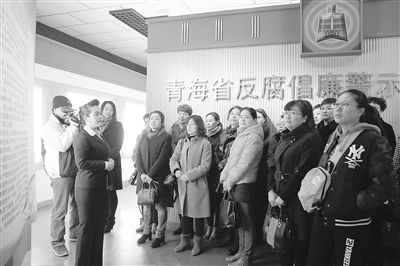 Organizers invite families of officials and staff to receive education about clean governance. [Qinghai Daily]
Women's federations across northwest China's Qinghai Province launched various activities entitled Building Honest Family Tradition, Establishing Upright Ethos recently, advocating anti-corruption and positive family traditions.
Taking the family as a basic unit of society, local autonomous regions in Qinghai also hosted anti-corruption educational activities, which have become a highlight of family construction work in the province.
In recent years, Qinghai has earnestly been implementing the remarks and spirit of speeches delivered by President Xi Jinping about tradition and family construction among all Party members and officials.
Local government departments at all levels have attached high importance to the culture of an honest and clean government. As such, different kinds of relevant adverts have been displayed on the main streets, parks, squares, schools and campuses, at bus stations and on buildings in both urban and rural areas of Qinghai.
In addition, organizers from the Party committee of a local county also invited popular folk music groups to compose special songs, which have deeply affected the general population, including some 490,000 government officials and staff of various ethnic groups.
"Positive family tradition is not only the basis of officials' morality cultivation and the protective screen of anti-corruption, but also a tremendous positive energy in leading the general mood of society," stressed an official.
"Family is not only the first but also the last defense line that resists corruption," she added.
Recently, Qinghai Women's Federation joined with the local Women and Children's Museum, the publicity department of Qinghai provincial Party committee and other relevant departments, to hold a themed exhibition named "Family Education and Tradition: Harmonious Family will Prosper".
The exhibition attracted some 15,000 officials and staff, teachers and students to the event, from which visitors further understood the profound meaning of honest and upright family traditions, said organizers.
Qinghai Women's Federation and publicity department of the provincial Party committee jointly published a book entitled Family Instructions, Disciplines and Stories, which contains 170 stories of inspiring families.
"These stories include people's feelings for the family, highlight traditional virtues and promote civilized values," commented an official.
Attendees at a publicity activity [Qinghai Daily]
(Source: Qinghai Daily/Translated and edited by Women of China)