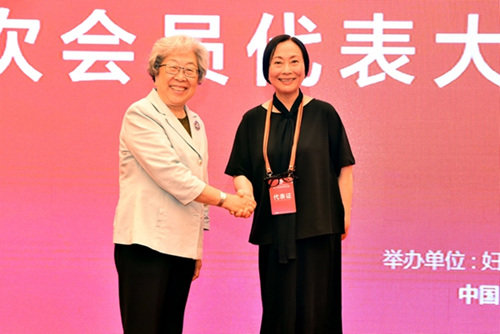 Shen Shuji (L), president of the first council of the China Women's Handicraft Society, shakes hand with Wu Haiyan, newly-elect president of the society, in Beijing on May 28. [Women of China/Zhang Ping]
The China Women's Handicraft Society (CWHS) held its second congress in Beijing on May 28.
At the conference, officials reviewed and passed the work report of the first council and revised its constitution.
The organization also elected members of its second council, along with its standing directors, president, vice presidents and secretary general.
Wu Haiyan, professor and dean of the School of Design of China Academy of Art, and member of standing committee of the Zhejiang Provincial Committee of the CPPCC (Chinese People's Political Consultative Conference), was elected president of the society.
Organizers put forward guidelines and goals for the next five years, with emphasis on: adhering to the leadership of the Party; working hard to guide women in the new era to strive for progress; developing into a clean and efficient social organization and a training base for all the members' improvement of capabilities; and, focusing on inheritance and innovation to build a national service platform for the handicrafts industry.
Zhang Xiaolan, vice-president and member of the Secretariat of the All-China Women's Federation, attended the conference and delivered a speech.
She expressed her congratulations to those present and gave high praise and affirmation to the work of CWHS, especially that of the first Council in the past six years. She also raised her hopes for the future development of the association.
Nearly 200 people from across the country participated in the conference.
Wu Haiyan speaks at the conference. [Women of China/Zhang Ping]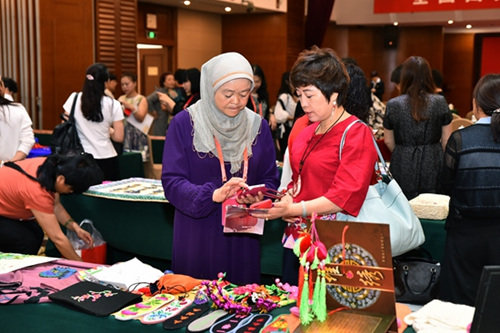 Members exchange ideas about their works. [Women of China/Zhang Ping]
Members showcase their works at the event. [Women of China/Zhang Ping]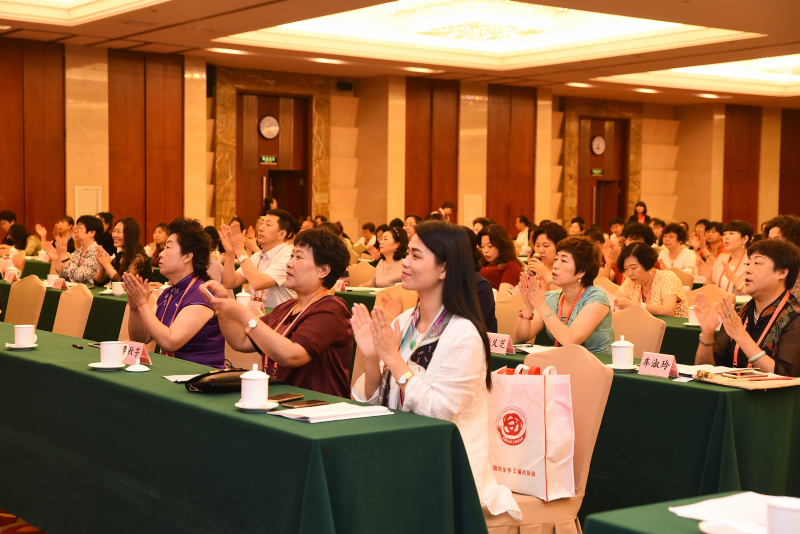 Attendees at the conference [Women of China/Zhang Ping]