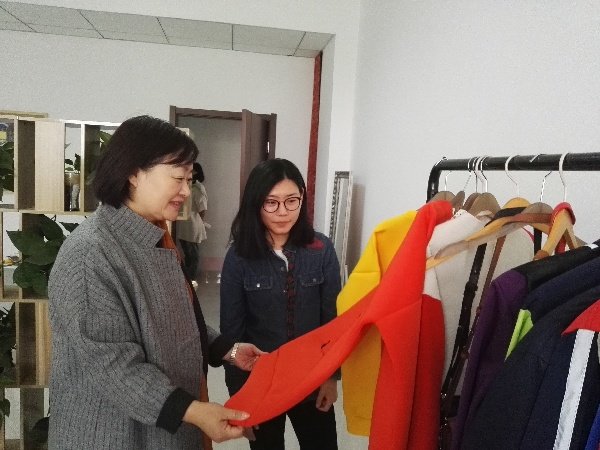 Yun Yumei, women's federation chairman, visits the entrepreneurship base to learn about the female entrepreneur's operations. [cnwoman.com.cn]
Women's federations in north China's Inner Mongolia Autonomous Region founded an entrepreneurship base for female college students in 2015 and 500 students have subsequently found employment.
The base, named Woman's Entrepreneurship Area, covers nearly 1,500 square meters, and is located in the science and technology park in the new urban area of Hohhot.
It aims to teach college students about business start-ups, give full play to the demonstrative effects of business incubator bases, and guide female college students to make achievements through entrepreneurship.
Thanks to this platform, a total of 58 companies have settled in the base and over 500 female university graduates have found employment.
Yan Jianmin is manager of Chuangjin Garment Studio, which mainly creates custom-made clothes.
Yan and other two partners, who were all born in 1991, settled here in February last year. The women's federation not only provided them the office for free but also 10,000 yuan as initial capital.
"All this help plays an important role for college students who have just graduated from school," Yan said.
The turnover of the Chuangjin Garment Studio reached 400,000 yuan last year. Its clothes have also become the uniform of several chain restaurants and water companies in Hohhot.
Settled in as legal persons or partners, female graduates who have graduated from university within five years will enjoy a 10,000 yuan starting-capital subsidy if their company is operating efficiently according to the scheme of the base.
During its incubation period, an enterprise that provides a female graduate a job and signs one-year contract with her will get 2,000 yuan as a subsidy, the total of which does not exceed 30,000 yuan a year for a company, and the period does not exceed 3 years.
Over the past two years, the women's federation has provided 576,000 yuan of start-up funding support for 45 companies that have settled in the base.
The Inner Mongolia Women's Federation has invested 2.05 million yuan as support funds in the past three years. Enterprises settled here can enjoy rental subsidies, which are free for the first two years and 50 percent off for the third year.
"For female college students, we not only help them start their own businesses, but also drive them forward," Zhang Chen, head of the Development Department of the Hohhot Women's Federation, said.
The women's federations at three levels have made it a top priority to guide and lead female college students to entrepreneurship and employment in recent years.
Various channels, including conducting training guidance and providing entrepreneurial information, have been adopted to help female college students improve their abilities in entrepreneurship and employment.
The women's federation of Xincheng District organized a forum in which more than 30 entrepreneurs in charge of the company introduced their ideas, the bottlenecks they've encountered, and the direction of the company's development in the future.
Many companies also discovered opportunities to achieve win-win cooperation with each other and expand production.
The female college students who have settled hoped that women's federations could continue to support them after the three-year preferential policy expired this year.
(Source: cnwoman.cm.cn/ Translated and edited by Women of China)