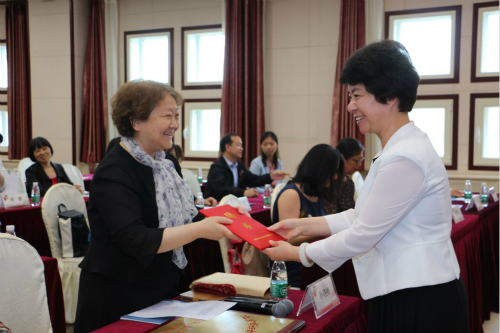 Cai Shumin (R) awards an expert with a certificate at the signing ceremony. [Women of China/Zhang Yuan]
The Office of Beijing Working Committee on Children and Women held a signing ceremony at China Women's University (CWU) to mark the establishment of the Women's and Children's Development Research Bases on May 22.
The Office designated CWU and Capital Normal University (CNU) as the research bases to thoroughly implement President Xi Jinping's socialist ideology with Chinese characteristics in the new era and the spirit of the 19th National Congress of the Communist Party of China, and strengthen research on the key issues concerning women's and children's development during the 13th Five-Year Plan period.
The Office also set up a panel of 111 experts specialized in research on the development of women and children, involving such issues as women's participation in policy making, women and children's health, education and social security.
The experts were recruited from universities, research institutions, Party and government agencies, and social organizations in Beijing, in order to support the operation and work of the bases.
Cai Shumin, director of the Office and president of Beijing Women's Federation, issued licenses to CWU and CNU at the event, and awarded certificates to the experts.
Cai also delivered a speech on further implementing the work of women and children's development including content focusing on problems faced by the field.
She also highlighted the goals of the bases: to solve problems in the development and cultivation of talents; concentrate on establishing an effective operating mechanism and integrating research methods and innovation.
After the signing ceremony, participating experts exchanged views on the role of the bases and the panel, to deeply and widely advance women's and children's development research in Beijing.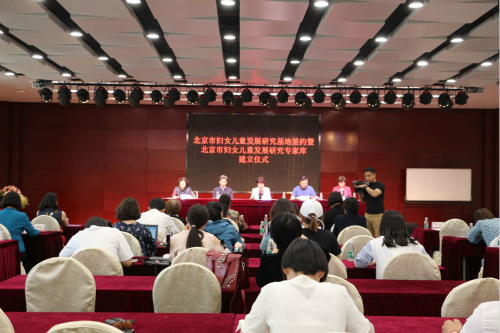 Participants at the ceremony [Women of China/Zhang Yuan]