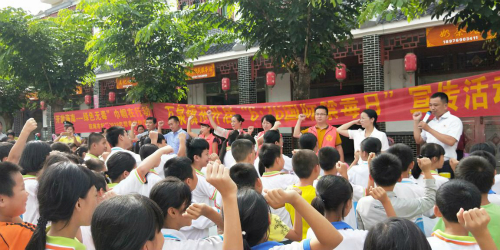 Students and volunteers participate in the oath activity of the anti-drug campaign. [Qionghai Women's Federation]
The Qionghai Women's Federation, in south China's Hainan Province, jointly launched an anti-drug propaganda activity in partnership with Wanquan Town to greet International Day Against Drug Abuse and Illicit Trafficking on June 26.
According to the officials, the event was held to emphasize publicizing anti-drug knowledge for students.
Chen Haiyan, president of the Qionghai women's federation, and Xu Linxing, member of the Party Committee of Wanquan Town, attended the event.
Chen first urged students in her speech to help educate those around them to understand the perniciousness of drugs, to cherish their lives, and stay away from drugs. Afterwards, the officials and students present took oaths to show their resolute rejection towards drugs, and attended a signature activity.
During the event, the women's federation organized women volunteers and members of the Mother's Training Team to distribute anti-drug propaganda materials and provide consultations to students and the public.
In addition, publicity boards were erected at the event to comprehensively promote drug knowledge and anti-drug policies in the form of illustrated texts covering drug hazards, common materials, and crime cases.
A total of nearly 500 aprons, fans, and umbrellas were distributed at the event, and about 500 copies of anti-drug letters.
On the same day, the township women's federations of Dalu, Yangjiang, Huishan and Bincunshan all carried out various forms of publicity activities, which increased women and children's awareness of keeping away from drugs, and created a strong anti-drug propaganda atmosphere.
Before this, Qionghai Women's Federation organized for women's federations at all levels to launch various activities as a new wave of anti-drug education.
On June 18, the women's federation officials participated in the centralized publicity activities organized by the municipal government in Bo'ao Town . They also further raised people's awareness of drugs through anti-drug banners, the distribution of leaflets, promotional materials, and on-site consultations.
On June 22, 20 women volunteers participated in an anti-drug activity by signing their signatures, visiting the anti-drug education pavilion, and watching educational films.
These on-the-spot experiences strengthened women's understanding of the dangers of drugs, improved their ability to resist drugs, and better mobilized the majority of women and family members to actively participate in anti-drug work.
The women's federation also went to counties of Shibi and Wanquan Dongshengju to visit the households of people affected drugs from June 25-26. Chen patiently communicated with the families and learned about their work and lives after they returned from rehabilitation.
Moreover, a former drug user wanted to expand his business but lacked the funds. Chen suggested he apply for a small discount loan in the name of his spouse from the local women's federation. Chen also expressed her appreciation for the former drug users' determination to completely give up drugs and return to their families, and encouraged them to contribute to their families and society.
The federation also issued 10,000 anti-drug public letters and distributed to families of various towns and districts. Chen led the cadres to distribute these letters to parents and students in Wanquan, so that they could learn more about the dangers of drugs.
Women's federations at all levels in Qionghai will work more actively and on a regular basis to fight against drug abuse and illicit trafficking, according to officials.
Students read promotional content of anti-drug publicity boards. [Qionghai Women's Federation]