Attendees at the opening ceremony of the 2018 Head for Happiness: Beijing, Hotan One Family event [Beijing Women's Federation]
Organizers in Beijing held a ceremony on August 3 to launch a local exchange project with families in Hotan Prefecture, northwest China's Xinjiang Uygur Autonomous Region.
The ceremony of the 2018 Head for Happiness: Beijing, Hotan One Family Event took place at Beijing Women and Children Social Service Center.
Chang Hongyan, vice-secretary of the Party group and vice-president of Beijing Women's Federation (BWF) extended a warm welcome to guests from Xinjiang at the event.
According to Chang, BWF and Hotan Women's Federation have always adhered to the principles of pursuing complementary advantages; making use of mutual benefit and common development; and, comprehensively promoted exchange and cooperation in various fields, channels and at various levels.
This project is a bridge for communication between women and children of the two cities and will take the form of a series of activities such as, pairing families, sharing reading experiences and visiting friends.
In future, BWF will join hands with all parties, rely on the capital's advantages in terms of resources; focus on promoting ethnic unity and on family and children; organize diversified exchanges and interactions; and, jointly create a better tomorrow for both sides, Chang said.
Tusong'ayi Yidireci, deputy secretary of the Party group and president of Hotan women's federations, expressed her deep gratitude to officials in Beijing in her speech.
"The exchange event fully reflects the help and selfless dedication of BWF, which has moved and encouraged women and children of all ethnic groups in Hotan, and also made them feel deeply about the boundless care from the Party central committee and the provinces and cities that have been providing assistance to Xinjiang," said Tusong'ayi .
Speaking at the ceremony on behalf of women and children in Beijing and Xinjiang respectively, local mother Liu Cong and a child from Xinjiang, Gulipairi Tuerhong, expressed the profound friendship between families in Beijing and Hotan.
Twenty-five pairs of children who took part in an activity which took place in different districts in Beijing and counties in Hotan, wrote down their wishes, gave each other cards and gifts, and made promises to become the envoy of friendship between the two areas.
Officials from BWF also gave children from Hotan knitted sweaters on behalf of moms from the capital.
Mothers and children from the two places gave a musical performance and danced at the ceremony, sending their greetings.
A total of 51 people, including outstanding women, young children and role-model family representatives, as well as staff from Beijing's Assisting Xinjiang Project Hotan Headquarters and Hotan Women's Federation, attended the event as members of the delegation from Hotan.
A series of exchange events will take place for eight days from August 2-9.
During this time, women and children from both places will take part in exchanges, reading and sharing activities.
They will also receive patriotic education in Tian'anmen Square and at the Great Wall, experience old Beijing culture in Qianmen Pedestrian Street, experience modern technology at China Science and Technology Museum, and watch a performance at China Puppet Theater.
As of this year, more than 300 outstanding families, mothers and children's representatives have traveled to Beijing as part of the scheme.
Dozens of domestic experts and Beijing-based female embroidery experts went to Hotan to conduct entrepreneurial skills training and provided on-site skills guidance for women there to help them master specials skills and encourage them to drive more households to get rid of poverty.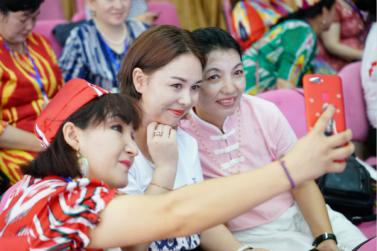 Female representatives from Hotan, northwest China's Xinjiang Uygur Autonomous Region [Beijing Women's Federation]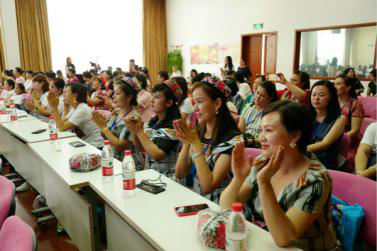 Female representatives from Hotan, northwest China's Xinjiang Uygur Autonomous Region [Beijing Women's Federation]
Children from the two places sing and dance at the ceremony. [Beijing Women's Federation]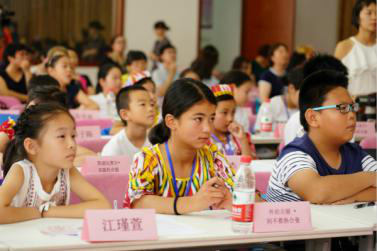 Children from Beijing and Hotan form pairs at the exchange event. [Beijing Women's Federation]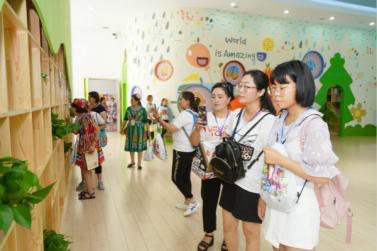 Female representatives from Hotan, northwest China's Xinjiang Uygur Autonomous Region [Beijing Women's Federation]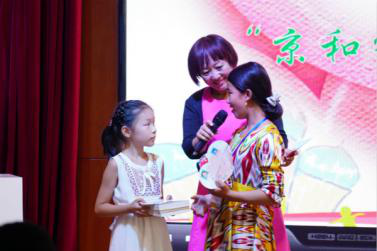 Children from Beijing and Hotan form pairs at the exchange event. [Beijing Women's Federation]