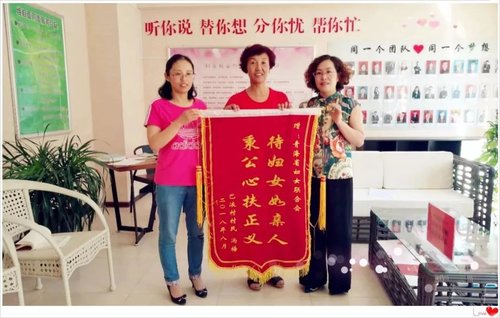 Feng presents a banner to Qinghai Women's Federation. [Qinghai Women's Federation]
Officials from the provincial women's federation of northwest China's Qinghai Province recently helped a woman gain land expropriation compensation money and received her sincere appreciation.
The woman surnamed Feng presented a banner to Qinghai Women's Federation (QWF) to express her gratitude for their work, and made special mention of them to the local attorney.
In March, Feng sought help from QWF when she was told that the villager committee refused to pay her land expropriation compensation money.
As a villager who has always lived in her hometown and therefore has a right to participate in the election of the village committee, Feng was disgruntled to know that the committee had made the decision based on the fact she is divorced.
After receiving her appeal, QWF made the case a high priority and then conveyed it to the Xining City Women's Federation. The federation also sent a letter to the local government with correction proposals about protecting women and children's legal interests.
Officials of QWF asked the government to investigate the issue seriously, examine the illegality of the villagers' committee's decision, and revoke the decision after Feng submitted administrative reconsideration to the relevant departments.
QWF supported her to safeguard her legal rights through litigation by inviting an attorney to provide Feng with free legal assistance.
After submitting the case to the local court two times, Feng won and gained the same right as other villagers to get 2,140 yuan land expropriation compensation money.
During the lawsuit, the federation invited law experts and lawyers to carry out several related activities and convened communication meetings with governments and women's federations at all levels to discuss the case so as to solve the problem as soon as possible.
As the first successful case in the province to protect women's land rights through litigation, the precedent plays an exemplary role for federations at all levels to safeguard rural women's land rights, help women enjoy equal employment opportunities and effectively solve family disputes, said officials.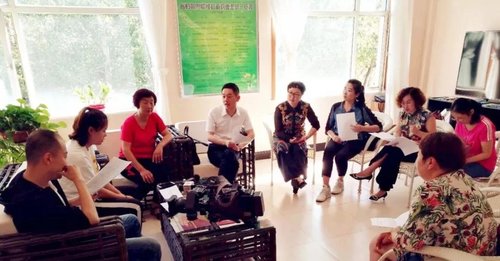 Qinghai Women's Federation convenes a communication meeting with governments and women's federations at all levels to discuss Feng's case. [Qinghai Women's Federation]
(Source: Qinghai Women's Federation/Translated and edited by Women of China)