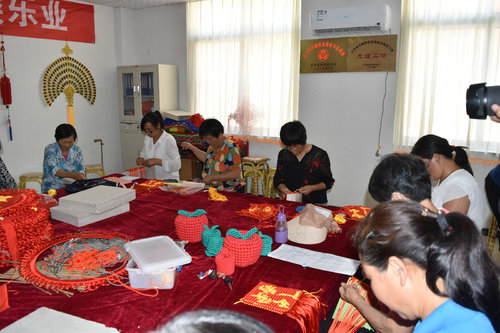 Women are busy with handweaving in Dongping County, east China's Shandong Province. [Shandong Women's Federation]

Shandong Province Women's Federation issued a provincial reform implementation plan and stipulated six projects last year to help women boost their income, according to a recent media profile.
Dong Lihua works for the Shouguang Divorce Registry in east China's Shandong Province.
Since the inception of the marriage and family volunteer counseling center last year, she has been volunteering there.
"With the knowledge I've learned by self-study, I work as a marriage and family counselor to provide more professional mediation services for couples in conflict," Dong introduced.
Since its establishment more than a year ago, Center has achieved a success rate of mediation that reached 33 percent.
"We have many professional volunteers, and their participation ensures the mediation work to be conducted in a more professional and effective," said by Cui Fengqin, chairman of Shouguang Women's Federation.
In fact, Shandong Women's Federation (SWF) plans to build 100 marriage and family counseling centers this year across the province.
In recent years, Shandong Provincial Party Committee and provincial government increased the investment in women and children related fields. These counseling centers are one of the six major women and children business development projects designed and carried out by the SWF this year.
The other five projects are the mother quality improvement project, Sister's Workshop, aid for impoverished mothers with breast cancer or cervical cancer, construction of women and children's homes, and improvement of the quality of members of grassroots women's federations.
One of the workers of SWF noted that since the group reform, the project operation mechanism has been gradually improved in SWF at all levels.
The general office of the Party Committee of Shandong issued a provincial reform implementation plan last year proposing that women's federations at all levels of Shandong should use socialized methods and project means to better serve women and children.
According to Hao Yabing, head of the Rights and Interests Department of SWA, the 100 counseling centers under construction are to rely on the marriage and family counseling information system to carry out counseling services.
"In the past, similar work has been attempted, but due to different local conditions, some places have achieved good results, whilst others not," Hao introduced.
"We can maximize the value of the project and benefit more families by developing standardized processes and systems," Hao added.
According to Zhao Hong, head of the Development Department of SWA, they have actively coordinated social resources and explored a poverty alleviation model of "women's federation + enterprises + Sister's Workshop + poor women" based on local advantageous industries, aiming at coping with the current situation of impoverished women lacking in industries, projects and opportunities to increase their income.
As of now, they have identified 1,000 Sister's Workshops, set up more than 6,000 processing service stations for home entrepreneurship projects, and helped more than 70,000 impoverished women shake off poverty by starting their businesses in their homes.

In addition, SWA will also provide financial support to those workshops in the next three years and carry out training to improve employees' skills.
Through training, their product competitiveness can be enhanced and its development further promoted. In this way, it can provide more jobs for impoverished rural women, thereby driving them out of poverty and boosting their income.
In accordance with the local custom of each place in Shandong, these workshops also seek to highlight their own distinct characteristics. Some will process insoles, whilst others produce kites.
"In implementing this project, we invited female entrepreneurs and caring people to participate, chose the appropriate industry to work on, and ran training accordingly, thereby ensuring the effective implementation of the project as well as mobilizing more people to join us," Zhao said.
Many items of the six projects have begun to show results. Take the construction of women and children's homes as an example.
At present, as part of the efforts, Shandong has built 60 homes for women and children in the seventh batch, with an investment totaling over 26 million yuan at all levels.
It has introduced more than 300 social organizations and public welfare projects, organized over 3,000 rights protection, employment, assistance, training and cultural activities, and served a total of more than 70,000 women and children in the communities.
Next, the women's federations at all levels will improve the project demonstration review mechanism, combine local women and children's development practices, carefully design work projects, do rational demonstrations well, scientifically formulate implementation plans, and eliminate the phenomenon of implementation for implementation's sake.
For long-term projects, they will also make annual plans and advance in an orderly manner.
For the projects that have been carried out, they will establish a performance monitoring and evaluation mechanism to regularly supervise and evaluate the management and use of project funds and project performance through the combination of self-examination and third-party evaluation, so as to uncover and solve problems in a timely manner.

At the same time, they plan to actively introduce professional services, organize social groups, social work organizations or skilled volunteers to participate in project operation and management.
The women's federations at all levels in Shandong will also strengthen the operational guidance and daily supervision of project implementation, improve the construction of project branding, and enhance the social benefits of those projects.
(Source: China Women's News/Translated and edited by Women of China)