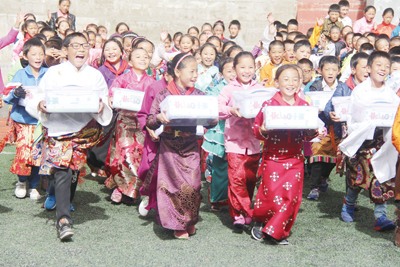 The HELLO kids public welfare project is implemented in the Yushu Autonomous Prefecture in northwest China's Qinghai Province. [Cnwomen.cn]
Since the launch of their organizational reform, women's federations at all levels in northwest China's Qinghai Province have strictly followed the requirements of reform by planning coordinately, forming joint efforts, and focusing on the effective combination of top-level design and grassroots work to achieve all-around development.
According to an official, Qinghai Women's Federation (QWF) have held seminars and meetings in Yushu, Golog prefectures and Maduo, Menyuan and Guide counties to comprehensively deploy and promote reforms.
The federation issued a list of reform tasks and urged federations at municipal and county levels to complete the tasks step by step.
They also joined hands with the Organization Department of the provincial Party committee, the provincial department of finance, and the provincial civil affairs department to issue several documents to improve the systems involving women's federations' reform.
In the last two years, QWF have conducted two sessions of training for the presidents of the township-level women's federations in rotation; organizing 12 training courses for the newly recruited presidents of women's federations of villages and communities, further harnessing the awareness and abilities of the grassroots women's federation cadres.
The QWF effectively ensured the allocation of the 30,000-yuan special work fund for township women's federations, the regionalization work of the grassroots women's federations and the rotation work of the members of federations' executive committees.
Since the reform, the proportion of outstanding women in the executive committee of QWF and the members of the standing committee has increased to 58.3 percent and 37.5 percent respectively; the proportion of such women in the part-time vice-president position has increased from 25 percent to 75 percent.
As of now, a total of 7,200 part-time cadres are included in the women's federation system, 29,338 people have been newly designated as members of the executive committee of the women's federations in townships, villages and communities.
The QWF have created 100 Model Women's Home Centers and 48 Standardized Women's Home Centers in townships and sub-districts. The federation also actively supported the development of 240 such centers in non-public economic organizations.
The QWF actively promoted women's federations at various levels to build a network community. In 2018, QWF carried out the training about network and new media work, upgraded the network literacy of women's federation cadres to create a clear cyberspace.
At present, QWF has established 75 official accounts on WeChat for women's federations at various levels to better communicate with women and learn about their actual needs.
Moreover, QWF has applied for more than 10 million yuan of financial support from the All-China Women's Federation and the provincial government to subsidize women who have been registered as suffering from poverty and the "two cancers" (breast and cervical cancer) in agricultural and pastoral areas.
A total of more than 30 projects that aimed at helping students and underprivileged mothers have been set up in 43 counties of eight cities, and materials worth more than 20 million yuan have been delivered to women and children in need.
A total of 180 Children's Happy Home and Left-behind Children's Demonstration Home Centers were also established, along with 1,784 grassroots contact sites of women's federations at three levels, directly contacting more than 350,000 women.
Since last year, QWF have invited more than 2,000 grassroots women's federation cadres and women from the general population to visit and participate in the training and symposiums in its office building, which have enhanced their understanding of the federation, and also stimulated their trust of ordinary women's federation cadres and women's federations.
People participate in a women's meeting in Jimai County in northwest China's Qinghai Province. [Cnwomen.cn]

(Source: Cnwomen.cn/ Translated and edited by Women of China)