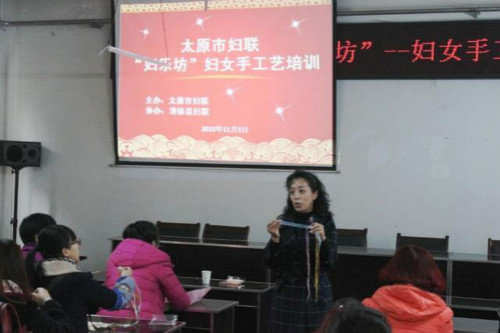 A lecturer offers a skills training course to local women. [Taiyuan Women's Federation]
Taiyuan Women's Federation in north China's Shanxi Province created a workshop three years ago aimed at carrying out a training campaign to improve local women's vocational skills, spurring more women to start their own businesses and thereby increasing their incomes.
TWF launched the workshop in August 2015. Officials of the women's federation organized a professional lecturer team and invited excellent artisans from all walks of life to offer training courses to locals.
With specific work plans, unified processes, financial funds from the local government and support from relevant departments, the campaign developed smoothly and has made significant achievements.
The workshop aimed to offer a wide variety of training including hand knitting, housekeeping, e-commerce, etiquette, cooking, infantile massage and crop planting skills to urban laid-off women, rural women who have found jobs in cities, female graduates and amateurs.
In order to enable grassroots women to enjoy the high-quality training resources together, organizers offered mobile courses in communities and countries across the city.
In addition, women's federations at all levels provided locals with targeted courses according to their actual needs, which received high praise from trainees.
"The peer-to-peer training and guidance improved our skills and strengthened our confidence for our start-ups," said a citizen.
"The bakery courses have helped many trainees open their own shops and lifted several impoverished women out of poverty, who have then even provided others with jobs," said a bakery lecturer.
TWF President Li Ying, a delegate to the 12th National Women's Congress (NWC), said the workshop was set up to serve grassroots women, help them improve their skills and encourage them to start their own businesses.
At the 12th NWC, Shen Yueyue, president of the All-China Women's Federation, stressed that women's federations should pay closer attention to the development of women, especially impoverished women's, protect women's legal rights and interests, and closely rally women of all sectors across the country around the Party, said Li.
Some 361 training courses have been offered to over 30,000 women in the past three years, helping over 1,000 women find jobs, according to statistics.
However, Li was not satisfied with the results. She said federations will study and implement the spirit of the 12th NWC, integrate policies publicity with skills training and mobilize more women to participate in the training.
Furthermore, federations will make full use of their unique roles in reform and development, follow the Party and help women make great achievements in the new era so as to further strengthen women's sense of fulfillment, happiness and security, added Li.
A lecturer teaches local women hand knitting skills. [Taiyuan Women's Federation]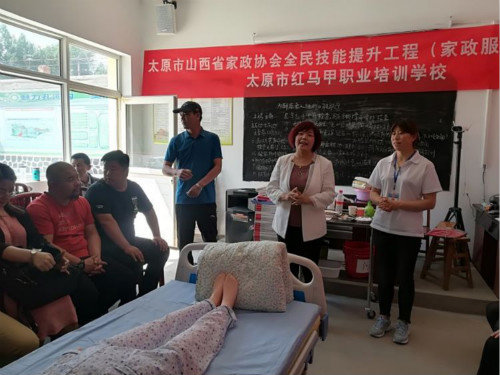 A lecturer offers a housekeeping course at a vocational training school. [Taiyuan Women's Federation]
(Source: China Women's News/Translated and edited by Women of China)