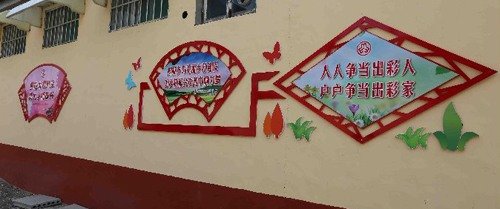 A wall painting in Chengzhuang Village in east China's Shandong Province [Cnwomen.cn]
The Party and village committee in Chengzhuang, in Jinan, east China's Shandong Province, have been striving to achieve overall development in the past few years, and have seen positive results.
Zhang Zhaoqin, secretary of the Party branch and president of the women's federation of Chengzhuang, said, "In recent years, women in the village have been provided with many channels to get out of poverty, and enrich their daily lives, which has also contributed to the village traditions and atmosphere."
Zhang also revealed that many households in the village have been preferentially arranged by the Party branch and the village committee two years ago to work in the local greenhouses. Many women from the underprivileged families were recruited as cleaners in the village. Both the actions helped increase villagers' incomes.
Chengzhuang Village is located in a remote area with no geographical advantages, resources, capital or technology. The villagers planted grains in the past, but if the yield was too low, they barely harvested a collective economic income for many years.
Based on the actual situation in the village, the committees built 3.3 hectares of high-efficiency agricultural greenhouses to plant special crops such as dragon fruit, cherry, strawberry and sunflower.
In order to lift needy families out of poverty, the committees gave priority to the employment opportunities of those with working ability amongst poor households.
As of now, eight underprivileged households in the village have all been lifted out of poverty and the village collective income is expected to reach over 200,000 yuan this year.
In view of expensive betrothal gifts and extravagant banquets, which exacerbate the phenomenon of comparison among villagers and is toxic for maintaining the harmony and stability of the village, the committees initiated a series of activities to transform customs and build a civilized village.
In the past two years, the villagers have gradually become accustomed to managing their wedding ceremonies in a low-profile manner. The last seven events have also been carried out frugally, and women in the village have played a paramount important role.
Since the implementation of the comprehensive improvement of the rural environment in Chengzhuang, Zhang has led the members of the committees to perform well in planning and mobilized villagers to participate in environmental remediation work.
In order to respond to the Strive for Building Beautiful Villages activities organized by the Jinan Women's Federation, Chengzhuang selected five households, including a poverty-stricken family, to highlight the role of models and demonstration effect to lead more villagers to participate in the activity.
(Source: Cnwomen.cn/ Translated and edited by Women of China)