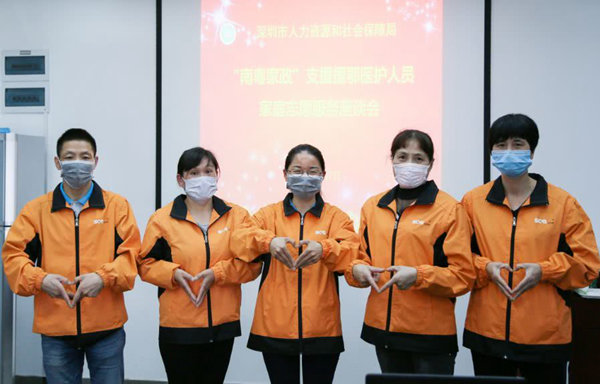 Some housekeepers from a housekeeping service company in Shenzhen City, South China's Guangdong Province, provide free housekeeping services to families of frontline medical workers. [dutenews.com]
The Department for Women's Development of the All-China Women's Federation called on individuals, enterprises and associations in the domestic service sector to contribute to the anti-virus fight through playing their unique role in family and social life, according to an initiative proposed by the department recently.
Many housekeeping service companies and housekeepers across the country are responding to the initiative on containing the spread of the novel coronavirus (COVID-19).
The Jinan-based Sunshine Elder Sister, a leading company in the housekeeping service industry in East China's Shandong Province, together with its 200 branches, has been keeping its hotline services available to housekeepers and clients since the Spring Festival holiday.
The hotline services include reminding housekeepers of the tips on personal protection amid the epidemic outbreak, improving their communication skills with customers, as well as addressing inquiries and problems for the clients via phone.
Youyuan Group, a Wuhan-based housekeeping service company, recruited cleaners via non-contact interviews and provided them with medical and self-protection training in a bid to contribute to the anti-virus fight on the front line.
Xueronghua, a domestic service company in Central China's Henan Province, had received more than 500 applications from its employees for joining the fight against the epidemic during the Spring Festival vacation. All of them have been dispatched to the front line of the fight.
In addition, in Zhengzhou City, capital of Henan Province, postpartum care workers are invited to offer online training courses for those in need.
In South China's Hainan Province, the Haikou-based elderly-care company Jiameile Group mobilized its workers to deliver masks to their clients to avoid infection.
In East China's Jiangsu Province, the public platform of female housekeepers proposed a ban on charging additional fees on services among local domestic service companies.
A group of female volunteer housekeepers in Ulanhot City, North China's Inner Mongolia Autonomous Region, helps local social workers inspect local communities, publicize information about epidemic prevention and control, and conduct temperature checks every day.
Ten domestic service companies in Northwest China's Gansu Province donated 150,000 yuan to the Gansu Women and Children's Development Foundation to support the grassroots women's federations and women volunteers fighting against the anti-virus fight.
The Women's Federation of Songxi County in South China's Fujian Province organized local housekeepers to make 1,000 protective shields within two days, which were all donated to people working on the front line of the battle against the COVID-19.
The association of domestic services of East China's Jiangxi Province rolled out guidelines on avoiding infection so that employees in the industry could stay healthy and safe and improve their services.
Jie'an Company in Southwest China's Guangxi Zhuang Autonomous Region provided psychological counseling and tips on personal protection to its employees working at designated hospitals.
(Source: China Women's News/Translated and edited by Women of China)