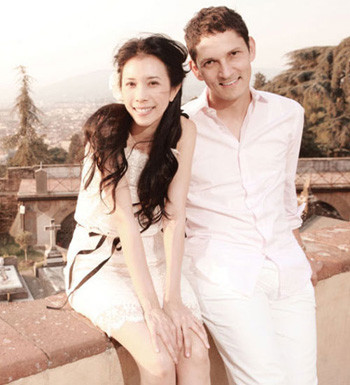 Karen Mok and Fiance [sina.com]
Hong Kong singer-actress Karen Mok will marry her German boyfriend on Saturday, sina.com reports.
Mok publicly released photos of herself and her fiancé, whose name is known as Johannes. The photos were taken in Italy, where the two met each other when they were studying in college.
Mok said that Johannes was her first boyfriend, but they broke up after dating for a year. They fell in love again about two years ago, despite that Johannes has three children from a previous marriage.
Karen Mok announced the news of their wedding in June when she received the Best Female Mandarin Singer Award at the 22nd Golden Melody Awards in Taiwan.
Mok had been linked romantically to actor-director Stephen Chow soon after she started her show business career in 1994, although she never confirmed their relationship. She went on to date Stephen Fung in 1998 before announcing that they had split up in 2007.