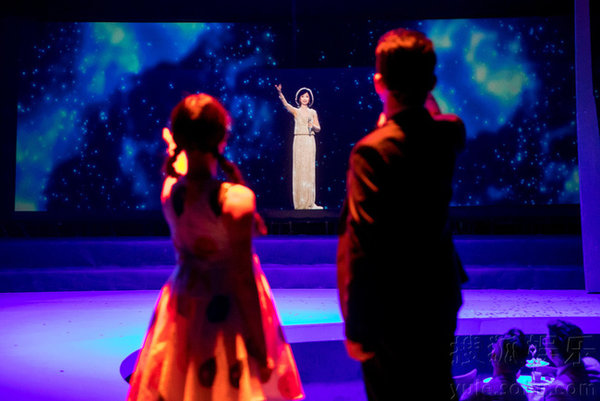 A virtual Teresa Teng (center) on stage in Taipei [sohu.com]
A virtual 5D music show featuring the late Taiwan pop star Teresa Teng premiered in Taipei on Saturday.
During the show, Teng came back alive as a virtual projection, greeting the audiences saying "It's been a long time." She performed her classics including 'When Will You Return' and 'Tuberose'.
Famed violinist and two-time Grammy winner Jamii Szmadzinski revised Teng's works in an electronic style. The designing of the music, stage, costume, dance, multimedia, and light effects in the show all came from award winning teams.
The show is a product from Digital Domain. The company has combined motion tracking, virtual human technology, and top-class special effects in making the singer's image.
Teng died in 1995 at the age of 42. Many of her folk songs and romantic ballads became standards in her lifetime, and have influenced a generation from both Taiwan and the Chinese mainland. She recorded songs not only in her native Mandarin but also in Taiwan Hokkien, Cantonese, Japanese, Indonesian and English.
(Source: China Plus)