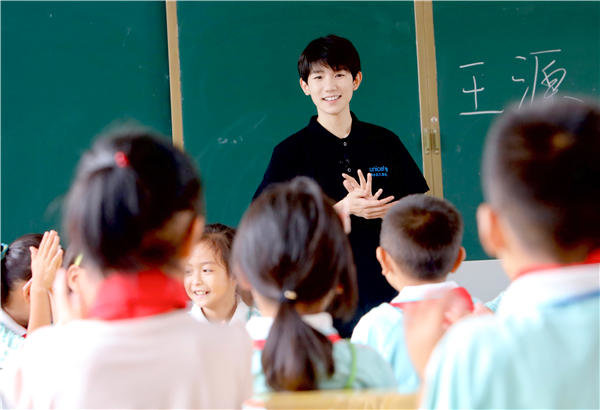 Wang Yuan, a member of popular boy band TFBoys, interacts with primary school students during a UNICEF-supported project in the Guangxi Zhuang autonomous region in September. [China Daily]
Boy band member galvanizes fans for larger causes. Yan Dongjie reports.
When TFBoys band member Wang Yuan said the Iinternet is necessary for improving education in the rural areas", fans of the teen singer got together to turn his words into reality by donating a mobile signal tower to Jiangxinzhuang village on the eastern edge of Beijing.
The Roy Signal Station, coined after Wang's English name, is 35 meters high and will provide the village with 4G communication signaling for at least two decades, covering one primary school and two kindergartens. It was the fans' way of celebrating their idol's 17th birthday in November.
Wang is a special advocate for education for the United Nations Children's Fund. In September, he had visited the UNICEF-supported Child Friendly School project in the Guangxi Zhuang autonomous region and participated in the Rural Principals Forum there, calling for more to be done for children's education in remote areas.
"Education is a public good, not a handout. Education is a right, and we should never allow it to be a privilege," he says.
The teen singer's contributions are part of a recent trend in which a number of Chinese celebrities use their star power to marshal fans and members of the public to help the needy.
Time magazine has also listed Wang as one of the 30 Most Influential Teens of 2017, considering his accolades across numerous fields, global impact through social media and overall ability to drive news.
The list includes singers and athletes. Wang was the youngest and sole Chinese on it. Brooklyn Joseph Beckham, the 18-year-old eldest son of British soccer star David Beckham, was also listed.
Wang is a student at Chongqing Nankai Secondary School, one of the top senior middle schools in China.
He joined the Time Fengjun Entertainment group at an early age, and made his debut as a member of TFBoys in 2013.
TFBoys is one of China's most popular boy bands. It has won major music awards and boasts more than 98 million followers on Sina Weibo, a Chinese micro blog.
Other than education, Wang and his fans also focus on environmental protection.
A group of supporters called Roy-BoyCool had cruised along the Wulong River, one of the waterways that flow into Dianchi Lake in Yunnan province, collecting waste for recycling and keeping tabs on water quality. The lake on the Yunnan-Guizhou Plateau has been facing pollution woes in recent years.
"You have been to so many places contributing to the public good. We promise to do good work with you.… We are doing our part to help save Dianchi Lake for you," Roy-BoyCool members posted online in early November.
Other public projects carried out by Wang's fans include building three libraries in Guangxi and donating 1,600 books, planting 1,108 trees in Northeast China to mark Wang's birthday on Nov 8, and holding a concert to collect donations for autistic children.
Wang said at his birthday concert in Beijing on Nov 20 that he was proud of what his fans have done.
"Public welfare is what I've always wanted to do. I hope that under my influence, people can pay more attention to charity," Wang says.
At the concert, TV host and singer Yang Yang said Wang "takes responsibility as a teen idol. He leads people into doing a lot of meaningful things. I believe that this love and responsibility will be passed on to more people under his call."
In October, Wang and his team set up the Yuan Foundation, which aims to garner social action and goodwill to help people in need. Wang became one of the youngest Chinese singers to establish a charity fund.
The first project, which was started before the official launch of the foundation, helped 200 elderly people with cataract in the Tibet autonomous region.
In September, the foundation's staff members traveled more than 5,000 kilometers and covered five towns in Tibet, aiding more than 4,000 people.
Wang could not join the team during the whole journey, but the photos and videos of it touched him.
"I felt shocked and sad. But when I knew I helped them see the light again, I also felt inspired. I hope the fund can be expanded to help more people," Wang says in a promotional video.
"I am lucky and happy. I have the opportunity to see the colorful world and feel the beauty of life. In fact, my original intention was very simple-I try my best to help others and make more people happy," he says.
Li Ningyun, a senior at Tsinghua University, has been a fan of Wang for more than three years.
"Wang Yuan's focus on charity has had an impact on me," Li says. "I joined the volunteers' group in our department to try and do something for others. I also helped to organize the students in our department to reach out to children in remote areas."
"People might question the birthday celebrations and call them exaggerated, and say that fans spend too much time and money on these idols," says Li, "but I know a lot of fans who strike a balance between their real life and these activities. We actually become more hardworking and care more about public welfare."
(Source: China Daily)