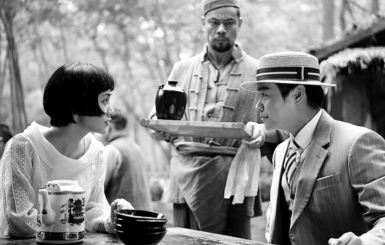 Actor-director Chen Sicheng (right) in a scene from his new television series Great Expectations. [China Daily]
Actor and director Chen Sicheng, who lived in Shanghai for three years, has always wanted to pay a cinematic tribute to the city, once described as the "Paris of the East".
And with his new television series, Great Expectations, he looks back on one of the most chaotic periods in the city's history.
Great Expectations, produced by and starring Chen in the lead role, is being aired on the provincial broadcaster Hunan TV, as well as five streaming sites: Tencent Video, iQiyi, Youku, mgtv.com, and le.com since April 1.
Chen named the 56-episode series to honor the work of his childhood hero, the British author Charles Dickens, whose novel Great Expectations was published in 1861.
The TV series, penned by Chen and four other scriptwriters is set in the 1920s and chronicles the rise of Hong Sanyuan, a street hooligan who is drawn into the feudal conflicts of powerful tycoons in Shanghai.
Speaking about the series, made with 350 million yuan ($55.5 million), Chen - the man behind the hit franchise Detective Chinatown - says he was always fascinated by stories of 1920s Shanghai, when numerous revolutionaries sacrificed their lives for the country.
Speaking about his own experiences, he says: "When I was 16, I left my hometown in Shenyang (the capital of Northeast China's Liaoning province) for Shanghai.
"The city has an allure and you can get immersed in its history just by taking a stroll in its alleys, especially when it rains."
In Shanghai, Chen studied at the Xie Jin Film and Television Art College of Shanghai Normal University from 1995 to 1997. He was dismissed by the college for getting involved in a brawl and being late for classes.
"Then, I felt I was banished and abandoned by the city," he says.
So, when he began to make the series he had mixed feelings and it could explain why he chose a survive-and-thrive story for the plot.
Separately, Chen says he is a a fan of Hong Kong martial arts novelist Louis Cha, William Shakespeare and Stephen Chow, a Hong Kong actor-director hailed as the "king of comedy", and that these masters have had a huge impact on his work.
Speaking about their influence, he says: "When I was studying stage performance at college, one of my teachers said there would be no one to surpass Shakespeare in theatricality."
HIs latest work can be seen as a homage, or imitation, or "whatever you want to call it".
"And you would find a number of theatrical conflicts if you watch Great Expectations (his series)," he says.
Giving details of how the idea of the series developed, Chen, who just turned 40, says he began thinking about the story in 2013, when he was in the postproduction phase of his directorial debut feature Beijing Love Story.
That movie, based on five couples, earned more than 400 million yuan in 2014.
Later, he got involved with Detective Chinatown, a crime comedy about an unlikely duo starring Wang Baoqiang and Liu Haoran.
The film, which has now become a franchise, is set in Thailand and grossed nearly 830 million yuan in 2015.
The second installment, with a bigger budget and a New York setting, recently overtook Stephen Chow's The Mermaid to become the third highest-grossing film in China of all time.
Detective Chinatown 2 was released in China, the United States and Europe on Feb 16, and has to date grossed nearly $2 million in overseas markets.
The third installment of the franchise will be out on the first day of the 2020 Spring Festival, Jan 25, according to Chen.
Typically, a movie debut is announced a few months ahead, so the confirmation of the release date - even before major work on the film has begun - is seen by most industry watchers as confidence in the film's potential.
Speaking about the future movie, Chen says: "I have some ideas and hope to start penning the script soon."
(Source: China Daily)