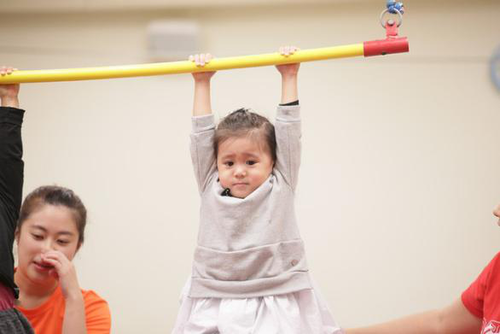 Jia Jingwen's daughter Bubu takes part in a game with her friend. [Xinhua]
Chinese audiences have praised a woman for skillfully educating her young daughter, as she demonstrated on the latest episode of the popular TV show Super Mom.
In the show, now into its third series, Chinese actress Jia Jingwen was seen taking her daughter Bubu to an education center to play games with her friend Mia.
The two young girls challenged each other to a show of strength competition soon after they arrived.
In the contest, the two friends hung on to a horizontal bar. Bubu held on to the bar tightly, but eventually lost to Mia.
Bubu went on to challenge Mia on the balance beam and in a walking race. Every time, Mia won.
On the way home, Bubu was unhappy because of losing. Carefully, though, Jia guided her daughter to patiently form a correct competitive spirit.
Jia encouraged Bubu to eat more and strive to do better next time.
In fact, the competitive urge is the driving force for children's advancement to some extent. However, sometimes it is too strong and lmakes children hard to face it.
Everyone will experience success and failure in lives, and parents should guide their children to have the right values on outcomes.
Just like Jia, the "super mom", her encouragement at the right time not only let her daughter enjoy the process, but also helped her learn to be happy for others.
(Source: Xinhua/Translated and edited by Women of China)