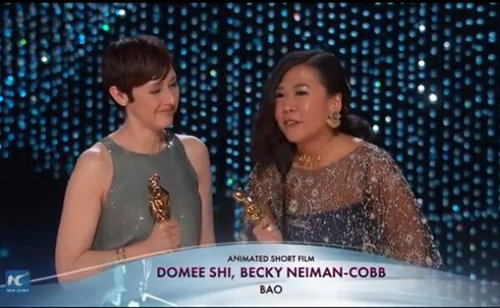 Domee Shi (R) speaks onstage during the 91st Academy Awards ceremony. [Xinhua]
Chinese-centric Bao claimed Best Animated Short at the 91st Academy Awards ceremony, or the Oscars, held at the Dolby Theatre in Los Angeles on Sunday.
The short is written and directed by Chinese-born Canadian director Domee Shi and produced by Pixar Animation Studios.
Bao explores the life of a Chinese immigrant mom living in Toronto with her inattentive husband and struggling to cope with loneliness after her beloved son flies the nest. Remarkably, the mom's deep, empty-nester angst turns to joy when a cute, leftover dumpling (a bao) comes alive in true Pinocchio fashion.
Shi is the first woman and first Chinese writer and director of a Pixar short.
Bao beat off tough competition from Animal Behaviour, Late Afternoon, One Small Step and Weekends.
When asked why she wanted to tell this particular story, Shi said "Traditionally, Chinese parents don't say 'I love you' to their kids. They say it with food or by fussing over them. I didn't use dialogue in the movie because I wanted it to be a universal story that spoke to everyone."
As the daughter of an over-protective mom herself, Shi also wanted to explore the complex pros and cons of family dynamics.
Shi graduated from the animation program at Sheridan College. She began as a story intern at Pixar Animation Studios in June 2011.
When asked how she felt to be the first female director to direct a short film at Pixar, Shi said, "I'm humbled and honored. I'm very lucky, Pixar has always been supportive to me as a creative storyteller. I hope I am the first of many to follow."
"The fact that I am the first woman and first Chinese writer/director of a Pixar short is the best indication of the impact of the #Timesup movement on motion pictures and Pixar in particular. Things are changing. In some animations schools nowadays, there are 75 percent women and only 25 percent guys."
"The fact that this story got made is the best example of the change and progress Pixar has made to embrace stories from other cultures," she added.
But, to be chosen to break Pixar's glass ceiling did not come overnight. Shi had to pay her dues. Over the last seven years at Pixar, she worked as one of many animators on such classics as The Good Dinosaur, and Incredibles 2, as she developed her creativity and style.
Shi's cross-cultural, female-centric family story struck a chord with the judges and carried her through both rounds of judging to win the top prize. This gave her the opportunity to lead an entire 100-person Pixar production team to bring her story idea to life.
Shi feels she owes much to her parents, from whom she inherited her creativity. "As the child of immigrants, your parents are always reminding you to work extra hard and you are always trying to be worthy of all the sacrifices they made for you."
Born in Chongqing, southwest China, Shi resided in Toronto, Canada most of her life. Her mother is a gifted cook, while her father is an artist and arts professor at Sichuan Fine Arts. It was he who first encouraged her to draw.
In Bao, Shi set out to make a short film that would profile real Chinese culture yet appeal to all audiences. "There are cultural differences, just like with Coco. We had to explain to our American crew why we had to do things a certain way and what a traditional Chinese home would look like."
Now, with the success of Bao, Shi is on the fast-track to animation stardom with a feature of her own in the Pixar pipeline.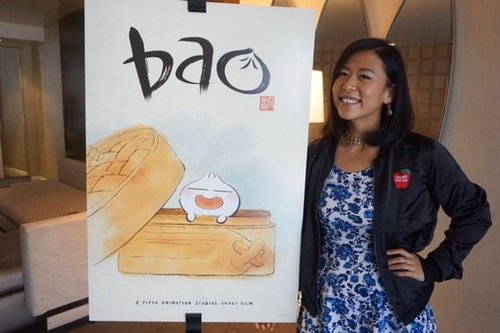 Domee Shi

[China Daily]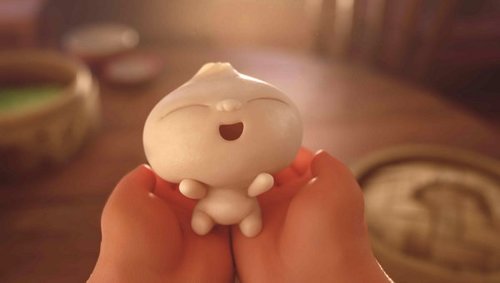 A scene from Bao [China Daily]
(Source: Xinhua)