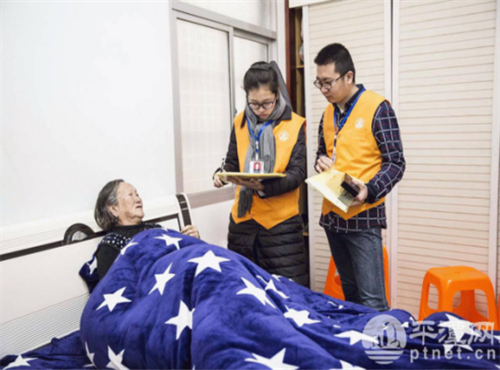 Staff at the Pingtan Xiaoxin Old-age Service Center collect an elderly resident's health information. [China Daily]
Pingtan in South China's Fujian province opened its first intelligent old-age service center on March 22, as the island city explores new ways of caring for its elderly residents.
Pingtan Xiaoxin Old-age Service Center combines an online platform with offline services to provide the elderly with efficient and convenient access to a greater variety of services, including housekeeping, health care and emergency rescue.
The center has also created a special app, which will allow elderly patients'children to track their parents'health in real time using smart gadgets worn by their parents.
Elderly residents will also have access to customized services like family care and entertainment at the press of a button.
Thanks to the great support the project has received from the local government, more than 10,000 elderly residents from deprived areas in the city are set to become the first to enjoy the new service free of charge, according to Wang Xiwei, director of Pingtan Xiaoxin Old-age Service Center.
In the future, the government shall expand the coverage of the free intelligent old-age service platform gradually. Those who are included in the first group will still be able to enjoy the service at a relatively low cost, added Wang.
(Source: China Daily)