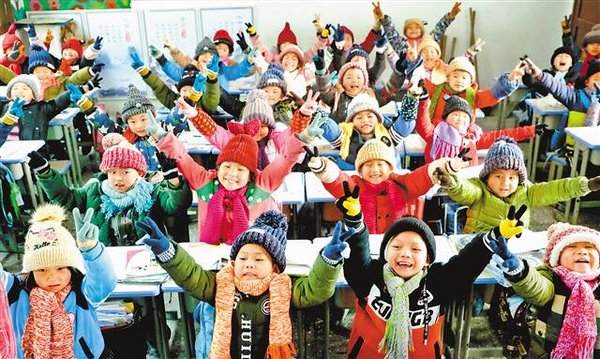 Several "left-behind" children laugh with a victory sign. [Xinhua]

An activity on the theme of "The Warmth in Winter" recently raised funds to buy materials for knitting winter clothes for children and elderly people living near Chongqing, a city in southwest China.
The event donated winter goods to 15,000 "left-behind" children (whose parents have left home to work elsewhere) and 2,500 elderly people who live alone in 18 poverty-stricken villages and towns in high-altitude mountains of northeast and southeast Chongqing.
Those places were all affected heavily by continuous rain and snow since November. Each recipient was given one set of gloves, scarves, and hats.
Initiated in 2013, the charity project raises funds from society to buy wool and organizes volunteers to knit the winter clothes.
A total of over 700,000 yuan (U.S.$ 111,300) was collected during the 30-day online fundraiser. In addition, teachers and students from Chongqing Depu Foreign Language School donated 100,000 yuan (U.S.$ 15,800).
Some 851 children and 467 elderly people from Aikou village of Xiushan, a county of Chongqing, received the gloves, scarves, and hats from Hechuan District of Chongqing on January 18.
"The weather is getting colder and colder, and the students have to leave home early, especially those who live in mountainous areas. These gloves, scarves, and hats are sorely needed," says a teacher from Aikou School.
It is believed that all these activities can help these "left-behind" children and elderly people feel the warmth from society.
(Source: Xinhua/Translated and edited by Women of China)